Good Ol' Days 2013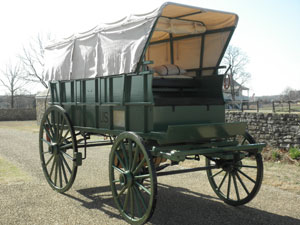 NPS PHOTO
Fort Scott National Historic Site Features Programs Focusing on Medicine for Good Ol' Days
Have you ever wondered what it was like to be in the army? Who would be there if you became sick or wounded in combat?Come to Fort Scott National Historic Site Saturday, June 1 and find out the answer to those questions as we present "Military Medicine - Then and Now".
Learn about the advancement of medical treatment in our nation's wars from volunteers representing soldiers from the American Revolution to the Global War on Terror.Listen to music spanning two wars as the Holmes Brigade Minstrels play popular tunes of the Civil War and "The Carlson's" perform songs heard during World War II.Take a guided tour exploring the prairie and learn about plants used for medicinal purposes during the 1800s.Take time to visit the Civil War Hospital Aid Society and learn how women of Fort Scott supported sick and wounded soldiers.While there, both young and old can join the ladies in preparing comfort bags for the Union soldiers.
Join historians Debra Goodrich Bisel and Michelle M. Martin as they take you on a journey into the rich military history of Kansas as they present "Kansas Forts and Bases:Sentinels on the Prairie".Their program focuses on their research for their current History Press publication of the same name.Bisel and Martin will talk about the research they have done, and each will share their three favorite Kansas military posts as a part of the program.They will be on hand to sign books after the program.
Come see two 20th Century military ambulances along with Fort Scott National Historic Site's Tripler ambulance wagon, which will offer you an opportunity to see mobile advancement of ambulances from the Civil War through Vietnam.Park volunteers Cindy and Dean Williams from Sapulpa, OK will bring their 1944 Dodge WC-54 ¾ ton Ambulance which saw service in the European Theatre during World War II.They state, "other than routine maintenance, it is in original condition."The other vehicle is a 1955 Willys M170 Frontline Jeep Ambulance.This type of ambulance was typically used between the Korean War and during the first part of Vietnam to transport wounded soldiers from the frontlines.This vehicle is also in unrestored original condition.
In addition, Cindy and Dean will bring medical equipment, a field operating table, field desk, military radio, litters, their wounded soldier display, "GI Joe", and some Army Nurse Corps items.Cindy states, "We do living history displays and drive both vehicles in parades and events to memorialize and honor our Veterans.Preservation of the Wartime culture and these rolling pieces of history, allows one to glimpse into the window of the past, and more fully appreciate the sacrifices made by 'The Greatest Generation'."
The schedule of activities is listed below:
SATURDAY, JUNE 1
10:00 am - Timeline of the American Soldier - Phelps #66 Sons of Union Veterans
11:00 am - Native American Exploration - Guided Tour
11:30 am - Kansas Forts & Bases:Sentinels on the Prairies - Deb Bisel and Michelle Martin
1:00 pm - "The Carlson's - WWII Music
3:00 pm - Timeline of the American Soldier - Phelps #66 Sons of Union Veterans
Fort Scott National Historic Site, a unit of the National Park Service, is open daily from 8 a.m. to 5 p.m. For more information call the site at 620-223-0310.
Did You Know?

Politics made strange bedfellows. John Little, a proslavery man, was shot to death at his father's store, by free state men who raided Fort Scott in December 1858. A friend, George Crawford, a free state man, was staying with Little that night. Crawford had once been the target of proslavery men.