Candlelight Tour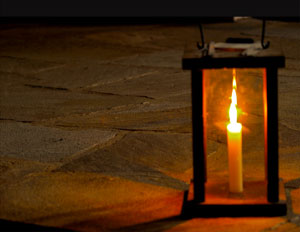 "There is no glory in war, yet from the blackness of its history, there emerge vivid colors of human character and courage. Those who risked their lives to help their friends. "
(Silvia Cartwright, former Governor General of New Zealand)
This year's candlelight tour at Fort Scott National Historic Site will focus on examples of courage shown by soldiers and civilians in the area during the Civil War in 1863. Some examples of courage shown will include people who were determined to defend and strengthen their homes and families despite the constant shadow of war, African Americans and American Indian soldiers who fought valiantly against not only the Confederate army, but also the foe of prejudice, and Medal of Honor winner James Pond, who bravely defended his men at Baxter Springs.
During the candlelight tour, over 700 candle lanterns illuminate the site and over 100 reenactors bring the fort to life. This year's tour will be offered December 6 and 7, 2013. Tours on December 6 will begin at 6:30 p.m. and go every 15 minutes until 9:00 p.m. On Saturday, December 7, the tours will run from 5:00 p.m. to 8:45 p.m.
Tickets are now on sale. Reservations are required and advanced purchase is recommended to get your choice of tour times. Visitors may pick up tickets at the site's visitor center or reserve them by calling (620) 223-0310. Payments can be made via cash, check or charge (DISCOVER, MasterCard, Visa). Tickets are $8.00 for adults; children five and under are free. Tickets are nonrefundable. Western National Parks Association, which operates the site's bookstore, sponsors the tour. Proceeds generated cover the cost of conducting the tour.
From November 1-March 31, Fort Scott National Historic Site, a unit of the National Park Service , will be open for its winter hours of operation from 9:00 a.m.-5:00 p.m. daily. For more information about the candlelight tour or other events at the site, call 620-223-0310.
Did You Know?

From 1869-73, soldiers were stationed near Fort Scott to protect a railroad being built through this area. Soldiers fought squatters who had formed an armed resistance to the railroad. This was one of few times in U.S. history that the army took up arms against civilians.