Candlelight Tour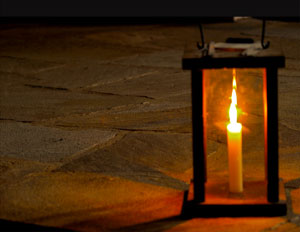 Some historians have called the Civil War "the Second American Revolution." Certainly the war brought great change and societal upheaval to the United States. By late 1862, the war was being fought not only to preserve the Union but also to abolish slavery. The composition of the military at Fort Scott grew increasingly diverse as African Americans and American Indians joined the Army. Women took on more leadership roles as the men were fighting and in some cases, dying in the war.
This year's candlelight tour at Fort Scott National Historic Site will focus on the challenges and societal changes that Fort Scott's citizens faced in 1862 as the war intensified in the region. Five scenes will focus on regional conflicts, the recruitment of diverse troops, and women's roles at Fort Scott. The tour will conclude with refreshments and musical entertainment in the site's Grand Hall.
During the candlelight tour, over 700 candle lanterns illuminate the site and over 100 reenactors bring the fort to life. This year's tour will be offered December 7 and 8, 2012. Tours on December 7 will begin at 6:30 p.m. and go every 15 minutes until 9:00 p.m. On Saturday, December 8, the tours will run from 5:00 p.m. to 9:00 p.m.
Tickets will go on sale November 1, 2012. Reservations are required and advanced purchase is recommended to get your choice of tour times. Visitors may pick up tickets at the site's visitor center or reserve them by calling (620) 223-0310. Payments can be made via cash, check or charge (DISCOVER, MasterCard, Visa). Tickets are $8.00 for adults; children five and under are free. Tickets are nonrefundable. Western National Parks Association, which operates the site's bookstore, sponsors the tour. Proceeds generated cover the cost of conducting the tour.
From November 1-March 31, Fort Scott National Historic Site, a unit of the National Park Service , will be open for its winter hours of operation from 9:00 a.m.-5:00 p.m. daily. For more information about the candlelight tour or other events at the site, call 620-223-0310 or visit our website at www.nps.gov/fosc.
For videos of last year's candlelight tour,
click here.
Did You Know?

Soldiers at Fort Scott formed the first "rainbow coalition" during the Civil War. African American, American Indian, and Euro American soldiers fought in this area. Many, including the First Kansas Colored, Sixth Kansas Cavalry, and elements of the  Indian Home Guard trained at Fort Scott.