Exhibits Closed

Beginning Monday August 25, the infantry barracks museum will be closed for remodeling and to prepare for a new theater and exhibits. Work is expected to be completed by spring of 2015. The site's movie will be played in the visitor center upon request.
Americans By Choice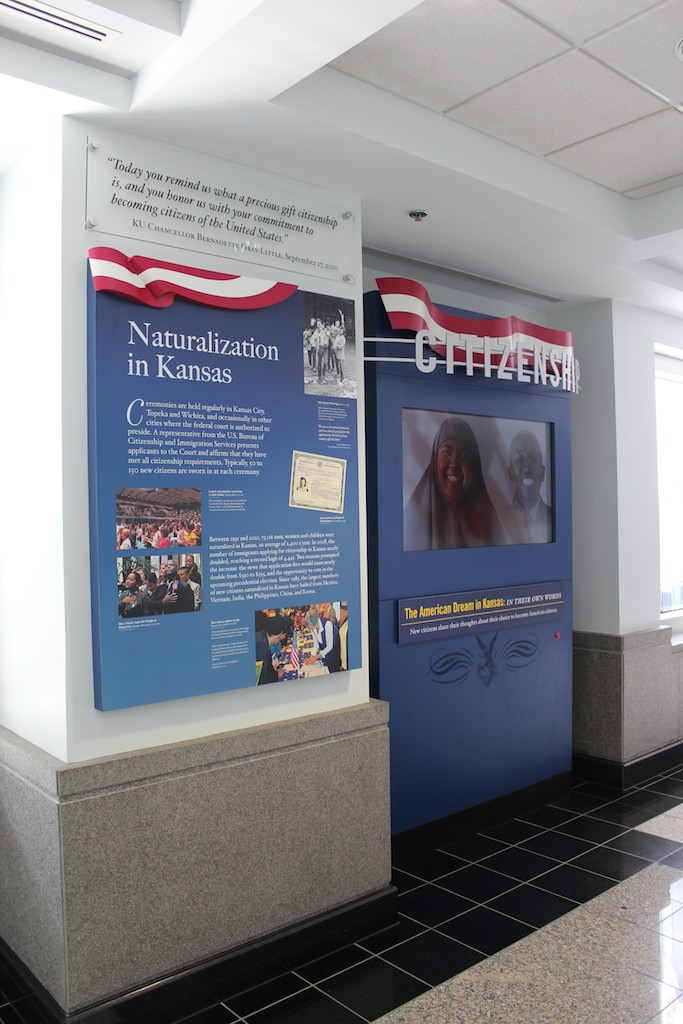 A traveling exhibit titled Americans by Choice: The Story of Immigration and Naturalization in Kansas will be offered at Fort Scott National Historic Site from May 24 – July 7, 2013. This informative display illustrates the paths to citizenship taken by Kansas settlers from around the world over the past 150 years, and personalizes the story of immigration and citizenship—who came, where they came from, why they came to Kansas, and why they chose to become U.S. citizens. It features photographs, documents, quotes, and interactive books describing major laws affecting immigration and naturalization over the past 150 years, the consequences of those laws and how they directly affected the life of a Kansan.
Most Kansans can trace their heritage to another part of the world. Some came in search of a better life for themselves or their children—many came to join families or friends. Between 1865 and 1880, Kansas attracted immigrants at a faster pace than anywhere else in the United States. The state's population grew from 107,205 in 1860 to 1,428,108 in 1890—thanks to the irresistible promise of a better life through land and jobs. In 1870, 13% of Kansas' total population was foreign-born. Employment opportunities, lower cost of living, and ease of integrating into communities in a meaningful way, continue to attract many new immigrants to the state. Today, 6% of all Kansans are foreign-born.
The exhibit, commissioned by the U.S. District Court, District of Kansas, can be viewed on the second floor of the Infantry Barracks which is now accessible by elevator.
Fort Scott National Historic Site, a unit of the National Park System, is open daily from 8 a.m. – 5 p.m. Entrance to the site is free of charge.
http://www.ksd.uscourts.gov/americans-by-choice-the-story-of-immigration-citizenship-in-kansas/
Did You Know?

Politics made strange bedfellows. John Little, a proslavery man, was shot to death at his father's store, by free state men who raided Fort Scott in December 1858. A friend, George Crawford, a free state man, was staying with Little that night. Crawford had once been the target of proslavery men.