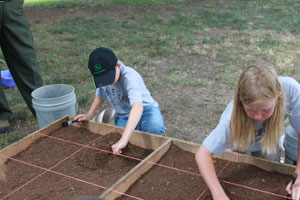 NPS Photo
President Theodore Roosevelt once said that "Conservation is a great moral issue, for it involves the patriotic duty of insuring the safety and continuance of the nation."
In a weeklong workshop at Fort Scott National Historic Site, area youth from ages 9-12 will have the opportunity to learn about how the National Park Service at Fort Scott NHS practices conservation principles to protect the site's natural and cultural resources, while at the same time offering interpretive programs that will help children attending the workshop to connect with their heritage.This popular workshop, known as the Trailblazer Program, will be offered from August 4-8, with programs running from 8:30 a.m.-12:00 noon, each of these days.
This workshop, now in its fifteenth year, will expose young people to the mission that the National Park Service has of caring for the nation's crown jewels. Participants will take part in an archaeological dig, work in the prairie, and gain knowledge of methods used to preserve the buildings and artifacts of the fort. They will learn about living history and interpretation and will work on a play that they will present at the end of the week. Also, there will be green activities that will teach children how to use our resources wisely.
Registration for the workshops is now taking place. To register, contact Fort Scott National Historic Site at (620) 223-0310. Participants must be aged 9-12 as of the beginning day of the camp. They will be sent an informational packet after registration is complete. There is no charge for the workshop. Space is limited to 12 people; since space is limited, those who are new to the workshop will be given preference over those returning.
This year, participants in the Trailblazer Workshop will also have the opportunity to attend a series of field trips to places like Mine Creek Battlefield, Prairie State Park, the Bushwhacker Museum and Island Mound State Historic Site near Butler, Missouri. The field trips will be held during the afternoon from August 4-7 with each day's trips going to a different destination. When registering your child for the Trailblazer program, please indicate whether you also wish for them to attend the afternoon field trips. Please note that field trip attendance is optional and your child can still attend the Trailblazer Program without going on the field trips. Lunch will be provided for those staying for the field trips.