Kids! Collect stories about the Civil War and civil rights! The National Park Service is offering more than 500 trading cards to mark the 150th anniversary of the Civil War. Visit a park in person to earn a card (sorry, cards cannot be mailed). Ask a ranger or stop by the visitor center at a participating park. You can view all the cards online and discover stories from nearly 90 national parks in 31 states and the District of Columbia. You'll be surprised at what you will learn.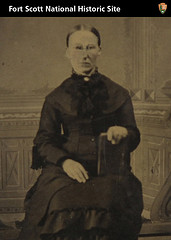 Elizabeth Wilson
Courage on the Homefront
After the Battle of Wilson's Creek, Fort Scott's citizens feared attack from Sterling Price's advancing Confederate Army. When James Lane's Kansas brigade left town, nearly all the townspeople fled. Four brave women, including Elizabeth Wilson, stayed to defend their homes.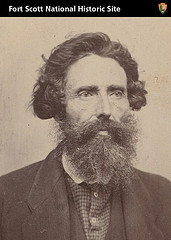 James Montgomery
James Montgomery was a free-state leader turned abolitionist and Jayhawker. He fought for African American freedom and equality, was active in the Underground Railroad, and he led black troops during the Civil War.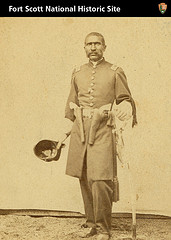 Captain William Matthews
William Matthews was a captain in the 1st Kansas Colored who recruited and led a company of soldiers. He was denied a commission when the unit mustered into federal service, but later in the war he became a lieutenant in the Independent Kansas Colored Battery, an all black unit with black officers.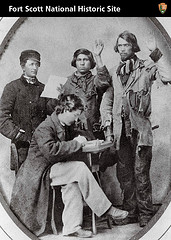 American Indian Home Guard
The Union Army formed the Indian Home Guard by recruiting American Indians to fight in Indian Territory. These effective troops were supplied by freight wagons from Fort Scott.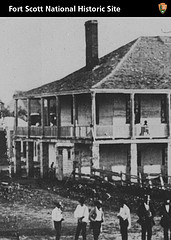 US Army General Hospital
Fort Scott, Kansas
Likely born enslaved, Mary Blakey served as a nurse at the US Army General Hospital at Fort Scott. Her service earned her a pension of $12/month and gave her a profession that she continued to practice after the war.