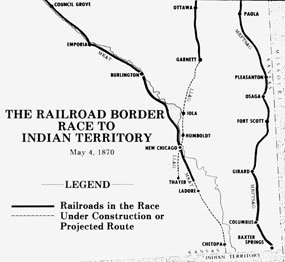 The Race to Indian Territory
To reach the Gulf of Mexico from Kansas, the railroad had to cross Indian Territory (now Oklahoma), which required the permission of the tribes that lived there. The Cherokee tribe granted right of passage for one railroad to build through their land.
Congress specified that the first railroad to reach the northern boundary of the Indian Territory would be the one that could build through Cherokee and other tribal lands. This condition resulted in a race to Indian Territory between two major railroads: the Missouri River, Fort Scott and Gulf Railroad, also known as the Border Tier Railroad, and the Missouri-Kansas-Texas Railroad, which was called the Katy. James Joy, a Midwest railroad empire builder, owned the Border Tier. The Katy fell into the hands of Levi Parsons, an eastern financier who had plans for an empire of his own.
Cherokee Neutral Lands and the Land League
The Border Tier made good progress; tracks reached Fort Scott by December 7, 1869. However, the graders, working several miles ahead of the tracklayers, started encountering resistance as they moved south of town.
The land south of Bourbon County (now Crawford and Cherokee Counties in Kansas) was known as the Cherokee Neutral Lands. This land was originally established as a buffer zone, free of settlement, between the Osage Indians and the state of Missouri. In 1836, the U.S. government sold this unsettled land to the Cherokee tribe with a condition that they maintain the buffer zone. Therefore, it became known as the Cherokee Neutral Lands.
During the Civil War, pressure increased to open this land for settlement. Squatters began moving onto these lands before the Cherokee Nation sold them to the Federal government in 1866. More settlers followed, but by 1868, they still did not have legal title to this land. James Joy wanted this land for his railroad and was able to buy a significant portion of it.
Facing the prospect of losing their land, settlers banned together to form a Land League to resist the railroad. In May of 1869, they assaulted a survey crew and burned their equipment. In July, they attacked a construction camp and notified the workers that they would burn them out.