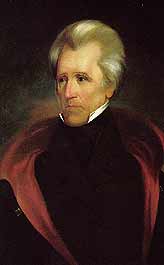 In 1829, Andrew Jackson became president. He felt the Indians did not have absolute title to the land and they could not establish an independent political sovereignty within the United States. On May 28, 1830, Jackson signed the Indian Removal Act. It authorized him to give land west of the Mississippi to Indian tribes in exchange for their holdings in the East. The United States would "forever secure and guarantee" this land to them and their "heirs or successors," provide compensation for the improvements upon their Eastern lands, and provide assistance in their emigration to the West. President Jackson signed into law nearly 70 removal treaties. As a result, 46,000 Indians moved west and as many more were under treaty to do so.
Where to Relocate
The Removal Act of 1830 only addressed the removal, not exact locations or methods to be used. The Intercourse Act of 1834 attempted to control the removal and gave a location for the Indian lands, "that part of the United States west of the Mississippi, and not within the states of Missouri, Louisiana, or the Territory of Arkansas."
Due to the cultural acclimation of the Cherokee and other Southern tribes, the government tried to provide them with land acceptable to them. One incentive given was that the Indian Territory would have representation in Congress, which never came about.
Nonetheless, many of the Indian tribes resisted and tribes such as the Cherokee and the Seminole had to be removed by force. The Cherokee suffered a forced march-the "Trail of Tears"- from Georgia to the Indian Territory. U.S. army estimates place the number of Cherokee who died along the route at 1,000, but of the 15,000 involved in the entire removal process, 4,000 died in either the stockades awaiting removal, along the trail itself or during the resettlement process. The Seminole tribe only complied after the U.S. Army fought two costly wars to get them out of Florida.