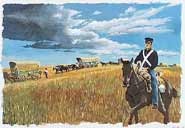 "A straight forward, simple and well-meaning people"
While patrolling the Oregon Trail, the soldiers encountered several wagon trains heading west. This was of some concern to the dragoons because the teams and herds of the wagon trains consumed the grasses as effectively as a prairie fire, leaving little for the dragoons' horses.
One dragoon officer praised the Oregon emigrants as a "straight forward, simple and well-meaning people." He reflected that the trip to Oregon would take a great deal of courage and perseverance. For the most part, the relationship between the emigrants and the dragoons was mutually beneficial. The emigrants enjoyed the dragoons' protection, while the dragoons enjoyed the attention that the emigrant girls lavished on them.
Other pleasures of the trail included the scenery, the buffalo hunts and the welcome break from the daily routine of garrison life. The dragoons experienced the adventures of two trails in 1845. They returned via the Santa Fe Trail in order to escort the wagons heading east that year, completing a march of 2200 miles in just 99 days!
The dragoons accomplished a number of things on their expedition. They gained valuable experience which would be useful during the Mexican War. They attained knowledge of the terrain and established friendly relations with many Indian tribes. They also made the trail safer for overland travel, which encouraged further westward expansion and contributed to the fulfillment of Manifest Destiny.