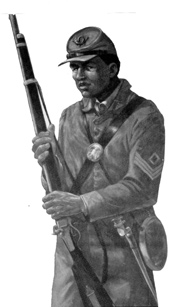 First Kansas (Colored) Volunteer Infantry Regiment
During the Civil War, Kansas was the first state to officially recruit and train military units comprised of black soldiers. Between July 1862 and October 1863, the 1st and 2nd Kansas Colored Volunteer Infantry Regiments were recruited in eastern Kansas and mustered into the Union Army at Fort Scott. They compiled a proud campaign record in Kansas, Missouri, Arkansas and the Indian Territory.
Recruitment
Kansas Senator (General) James H. Lane pioneered the recruitment of black soldiers in the Midwest. Most of the soldiers of the 1st Kansas Colored Volunteer Infantry Regiment were from Fort Scott, Leavenworth, Mound City, Wyandotte, and Lawrence, Kansas.
The Fort Scott Bulletin reported:
July 26, 1862
"An effort is being made in Leavenworth to raise a regiment of negroes. There are contrabands enough in Fort Scott to fill up two companies..."
August 16, 1862
"Colored Regiments--Gen. Lane is still going on with the work of organizing two Colored Regiments, notwithstanding the refusal of the President to accept black soldiers. Last Tuesday about fifty recruits were raised here..."
Organization
The 1st Kansas Colored Volunteer Infantry Regiment was mustered into the United States Army on January 13, 1863, at Fort Scott, Kansas. It was the fifth black regiment to enter the Union Army. Colonel James M. Williams, who had helped recruit the regiment, became the commanding officer. Throughout the Civil War, white officers normally commanded black regiments. However, a few black soldiers eventually earned the rank of officer and many others were promoted to non-commissioned officers (corporals and sergeants.) On December 13, 1864, during a general reorganization of the black regiments the 1st Kansas Colored Infantry became the 79th United States Colored Troops (USCT) and the 2nd Kansas Colored Infantry was designated the 83rd United States Colored Troops.
Campaign Record
The 1st Kansas Colored Infantry Regiment achieved an excellent combat record during the Civil War, and it also performed garrison, engineer, and escort duty. The Regiment saw action at: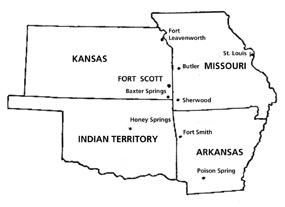 Island Mound; near Butler, Missouri October 28, 1862
Reeder Farm; near Sherwood Missouri May 18, 1863
Cabin Creek, Indian Territory July 1-2, 1863
Honey Springs, Indian Territory July 17, 1863
Poison Springs, Arkansas April 18, 1864
Flat Rock Creek, Indian Territory September 16, 1864
Timber Hills, Indian Territory November 19, 1864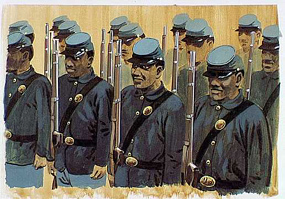 Reputation
Union officers recognized the excellent combat reputation of the 1st Kansas Colored Volunteer Infantry Regiment:
Major General James G. Blunt--July 26, 1863:
"The First Kansas (colored) particularly distinguished itself, they fought like veterans and preserved their line unbroken throughout the engagement. Their coolness and bravery I have never seen surpassed."
Lt. Colonel John Bowles--July 20, 1863:
"In conclusion, I feel it but justice and my duty to state that the officers and men throughout the entire regiment behaved nobly, and with the coolness of veterans. Each seemed to vie with the other in the performance of his duty, and it was with the greatest gratification that I witnessed their gallant and determined resistance under the most galling fire."
Brigadier General John McNeil--November 2, 1863:
"On Saturday I reviewed the First Arkansas Volunteers, First Colored Infantry Kansas Volunteers, and Rabb's Battery. The negro regiment is a triumph of drill and discipline, and reflects great honor on Col. Williams, in command. Few volunteer regiments that I have seen make a better appearance. I regard them as first-rate infantry."
Colonel James M. Williams--April 24, 1864:
"The officers and men all evinced the most heroic spirit, and those that fell died the death of a true soldier."
Discharge
The 1st Kansas Colored Regiment, mustered out in October 1865, incurred the most casualties of any Kansas Regiment. Five officers and 173 enlisted soldiers were killed in action and one officer and 165 enlisted soldiers died from disease.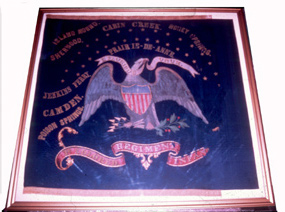 Suggested Reading
The Sable Arm: Negro Troops in the Union Army, 1861-1865,by Dudley Taylor Cornish.
Like Men of War: Black Troops in the Civil War 1862-1865, by Noah Andre Trudeau
Forged in Battle: The Civil War Alliance of Black Soldiers and White Officers, by Joseph T. Glatthaar.
The Negro's Civil War, by James M. McPherson
Army Life in a Black Regiment, by Thomas Wentworth Higginson
The Negro in the Civil War, by Benjamin Quarles
Related Sites
Produced in 2011, this short video gives an overview of the courage of the 1st Kansas Colored Infantry regiment's soldiers and the challenges they faced as they joined the Unon Army and became victorious in combat.

Duration:

4 minutes, 23 seconds