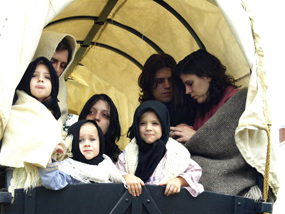 Haven for the Homeless
From the very start of the war, Fort Scott provided a safe harbor for refugees. In the beginning, families fleeing the warfare in Missouri, poured into Kansas and Fort Scott. Later thousands of homeless passed through from Arkansas and the Indian Territory. These included hundreds of free Blacks, escaped slaves, Indians and pro-Union settlers. Often arriving with few possessions and settled in makeshift camps about town, the most destitute of these refugees received help from the Army and citizens of Fort Scott.
Hell's Headquarters
Behind the scenes of Fort Scott's military headquarters, lies the less memorable picture of daily toil and pleasure. The snakes, the mosquitoes, the days of drill and monotony, left many a soldier cursing the war and camp. Soldiers have left accounts of their attempts to keep entertained in Fort Scott with a game of baseball or cards, writing letters, a concert by the 9th Wisconsin Band, or perhaps a dance organized with the ladies of town. And of course, pay day often found many men seeking entertainment in Fort Scott's taverns and saloons.
The forced friendship between the town and the Army was at times naturally strained. When Confederate troops passed East of the town in September of 1861, the order was made for all troops and citizens to retreat north to Fort Lincoln on the Little Osage River. Several Union soldiers who were left in the town took the liberty of looting many of the citizen's stores and homes which clearly did little to encourage amity. Relations were stirred again when two soldiers were accused of raping a young girl. Horrified and outraged, the townspeople mobbed the prison and hung the soldiers before they ever reached trial.
From Pandemonium to Peace
After the Civil War ended in April of 1865, the U.S. Army remained at Fort Scott through the summer. By October, the Army had sold their buildings and military surplus at public auction, the hospital was closing down, and the last troops were marching home.
The town resumed a quieter pace, steadily growing as frontier America expanded, until the next sweep of change brought by the great railroads, left its imprint on Fort Scott's history.
Suggested Reading
The American Indian in the Civil War, 1862-1865, Annie H. Abel.
The Sable Arm, Dudley Taylor Cornish.
Civil War Kansas: Reaping the Whirlwind, Albert Castel.
Inside War, Michael Fellman.
Related Sites