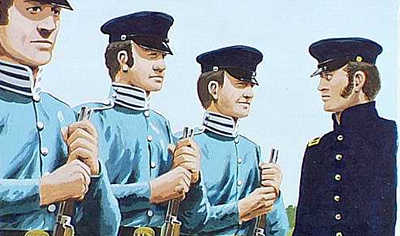 The infantry soldiers were considered the "backbone of the army". They formed the core of any fighting forces. Infantry at Fort Scott were armed with muskets and bayonets. The muskets had longer barrels, hence better range and accuracy than the dragoons' carbines. Traveling solely on foot, the infantry had no need for other weapons. The bayonets could be affixed to the muskets and used in close combat, but their use was more decorative than practical.
The infantry at Fort Scott did not have much of a chance to use their weapons during the first three years of the fort's existence. They spent much of their time building the fort. One complaint heard was that they spent more time using their pickaxes and shovels, than they did their muskets. In 1845, 4th Infantry, Companies C and D left Fort Scott and joined General Zachary Taylor's Army of Occupation. From May of 1846 to February of 1847, their muskets blazed several times as Taylor's army won a string of victories in northern Mexico. Companies C and D continued to use their weapons in the summer and fall of 1847 as they aided General Winfield Scott in his conquest of Mexico City.
The Mexican American War, which ended in 1848, added a vast quantity of land to the United States. The entire American Southwest was acquired as a result of the war. The soldiers of Fort Scott-both dragoon and infantry-aided in this conquest. Their arms-muskets, carbines, and sabers-became weapons of expansion as they helped fulfill America's "Manifest Destiny" of being a nation that would stretch from coast to coast.
Information on this page was written by park staff.