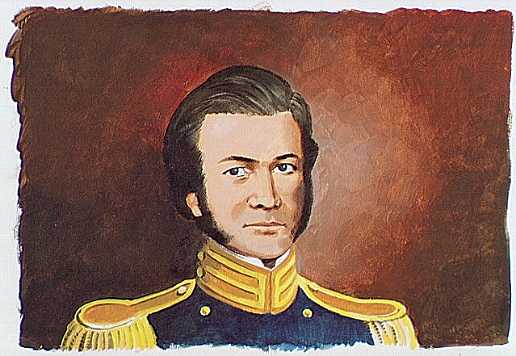 Hugh Brown-NPS has rights
The following is a complete listing of officers that served at Fort Scott as Post Commandant or Commanding Officer. They are listed in order from lowest to highest ranking but not in actual order of service
2nd Lieutenant/1st Lieutenant Thomas Hendrickson. 1st Lieutenant Hendrickson was the only 2nd/1st Lieutenant posted at Fort Scott who served as Post Commandant on a temporary basis.
Captain Benjamin D. Moore. Captain Moore was the first Fort Scott commandant or commanding officer. The medical officer, quartermaster - in charge of supplies, assistant surgeon officer, Adjutant officer (assistant), and Officer of the Day reported directly to the Post Commandant. Responsibilities included the overall supervision of the post. Other captains included: Captain Sidney Burbank, Captain Thomas Swords, Captain Albemarle Cady, and Captain Michael Van Buren.
Brevet Major or Brevet Captain. Brevet (Bvt). Major William M. Graham, was promoted to the rank of a Brevet Major so that he outranked all other officers at the fort. A brevet promotion was temporary, not permanent. Other brevet captains/majors included: Bvt. Captain Alexander Morrow, Bvt. Major Philip R. Thompson.
Major Winslow F. Sanderson was the highest ranking officer to ever serve at Fort Scott during the active military years of 1842-1853. Major Winslow served as post commandant from November 2, 1852 to January 6, 1853.
Assistant Surgeon Alfred W. Kennedy - Dr. Kennedy was the only other officer on the post at that time and replaced Bvt. Capt. Morrow as Post Commandant. This was a unusual instance where a post surgeon commanded a frontier military post.