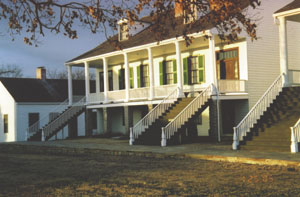 NPS Photo
There were originally four complete sets of officers' quarters at Fort Scott. Of these, two and one-half are still standing but only half of one is furnished as an officer's quarters.
Known as Swords' Quarters or Officers' Quarters No. 1, this building is thought to have been the quarters of Captain and Mrs. Thomas Swords and Captain and Mrs. Burdett Terrett.
When the fort was abandoned in 1853, the buildings were sold at public auction. This building became the Fort Scott or "Free State" Hotel.
Occupants of the hotel participated in the violence of the "Bleeding Kansas" years, some of which took place right outside its doors. In the 20th century, the building served as a museum-Headquarters House-for several years prior to 1978, when the site became a National Historic Site.
Today, half of the building serves as the administrative office of the National Park Service and the other half is restored to its 1840s appearance.