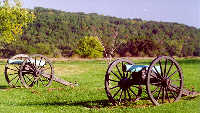 In the 1840s, there were essentially four different types of artillery and four different classifications. The types were guns, howitzers, mortars, and columbiads. The classifications were seacoast, siege and garrison, field, and mountain. A short definition of each follows:
Guns

- heavy weapons with long barrels to batter fortifications with shot at long range.

Howitzers

- shorter barreled guns with "chambers" in the bores for smaller powder charges. They were designed to fire shells at higher elevations over less range.

Mortars

- Short chambered pieces used for lobbing shells at great elevation into the fortifications of the enemy.

Columbiads

- long-barreled weapons combining the features of all three of the above, and were the heaviest pieces in use.

Seacoast

- heaviest types of weapons that were mounted in permanent fortifications on the seaboard.

Siege and garrison

- used to attack or defend fortifications and field works.

Field

- Light artillery, more maneuverable than garrison guns, could be taken on campaign
with troops in active operations.

Mountain

- used in rough country where there were poor roads. Could be disassembled and carried on the backs of mules over rugged terrain.
The types of weapons at Fort Scott were field guns, and were 6 pound smoothbores. There are currently two of these weapons at Fort Scott National Historic Site. There is also a 12 pound mountain howitzer. There is no evidence of a mountain howitzer ever being used at Fort Scott, but the dragoons would have taken a mountain piece with them when on summer campaign. During the 1844 campaign to the Pawnee villages, the dragoons had mountain howitzers with them. After a demonstration of their firepower, the Pawnee agreed to cease their attacks on the Sioux and to leave the emigrant traffic to Oregon alone.
Following are the various parts of the field piece.
The Gun
Cannon

- The term cannon embraces all kinds of heavy ordnance, Guns, Howitzers, and Mortar.

Piece

- The term piece is applied to an individual cannon on a carriage, with or without the limber.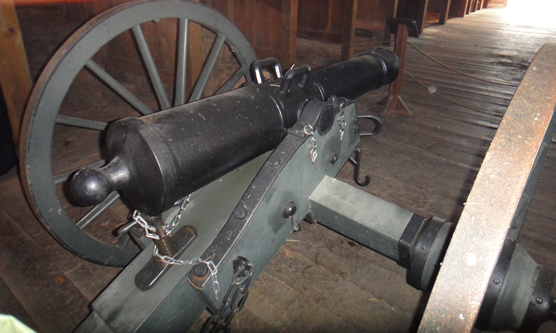 The Carriage
Cap Square

- A piece of iron placed over the trunnion to keep it in place.

Axle body

- Wooden covering over the iron axle.

When transporting field pieces, a limber was used to pull the gun, which in turn was pulled by six horses.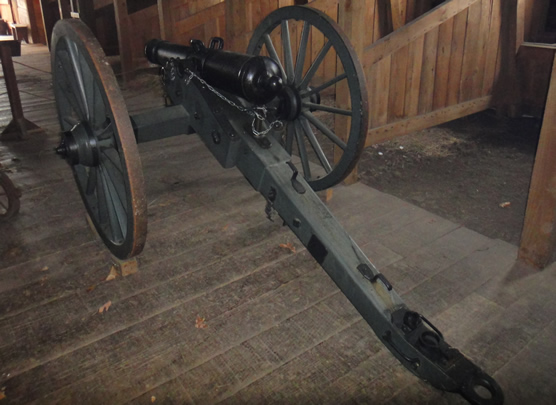 The Limber
Limber

- Two-wheeled vehicle to which the gun trail is attached for transport.

Pintle Hook

- Large brass hook at the rear of the limber used to connect the limber with the gun carriage.

Ammunition chest

- Large wooden box on limber use to transport the gun's ammunition. When full, it will hold 32 rounds.

Caisson

- Similar to the limber, but carries two ammunition chests, a spare wheel, and other spare parts. When being transported, a limber was also attached to this vehicle.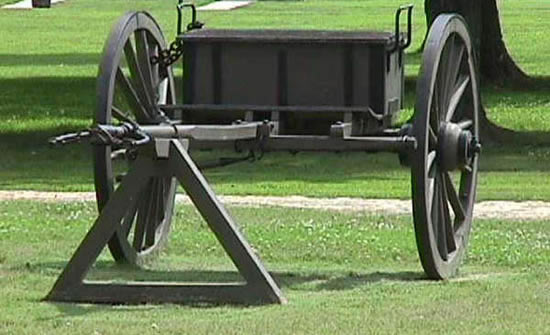 The information for this section was taken from an anonymous article in Fort Scott's files and from Cannons: An Introduction to Civil War Artillery by Dean Thomas, Thomas Publications (used by permission).
Artilery Demonstration-section on types of guns. Labor Day Weekend 2009.

Duration:

5 minutes, 22 seconds