Exhibits Closed

Beginning Monday August 25, the infantry barracks museum will be closed for remodeling and to prepare for a new theater and exhibits. Work is expected to be completed by spring of 2015. The site's movie will be played in the visitor center upon request.
Fort Scott: Lessons from an Adolescent America
Fort Scott National Historic Site invites you to step back in time to experience life at a frontier army post and to participate in the events of a town immersed in conflict! We invite you to participate in one of our curriculum based education programs or one of our other educational opportunities.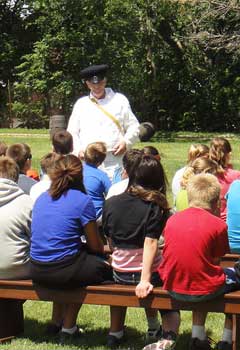 Features
Teacher Ranger Teacher

Fort Scott is recruiting for a Teacher Ranger Teacher, a six-eight week internship, which gives teachers the opportunity to spend a summer at the site

Read More

A Class Act

Students from Eugene Ware Elementary's 3rd grade voted in a mock election that was held as one of three stations offered during their visit on May 14.

Read More

Virtual Resource Center

The virtual resource center is a research aid to students and volunteers preparing education and living history programs about 1840s frontier life.

Read More