Bacon Murder Trial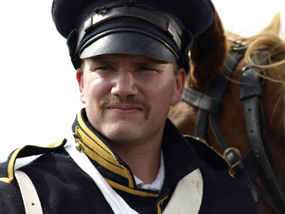 A sad accident occurred at Fort Scott on Wednesday, the 18th of March, 1846, which resulted in the death of Nehemiah Evans, formerly Corporal, Company A, 1st Dragoons. It seems that while in the stables, some drunken soldier entered and discharged his pistol, the buck and ball hitting Evans and killing him instantly.
Charles Bacon, on the eighteenth day of March in the year of our Lord eighteen hundred and forty six, at a place called Fort Scott, within that portion of the Indian country which is north of the north line of the lands assigned to the Osage Tribe of Indians and west of the river Mississippi, which said place is out of the limits and jurisdiction of any particular State of the United States of America and within the sole and exclusive jurisdiction of the United States of America, assaulted Nehemiah Evans, in the peace of God and the said United States, then and there being with force and arms feloniously and of the malice aforethought ended his life.
The examination of Charles Bacon, Private, Company A, 1st Dragoons, charged with the murder of Nehemiah Evans, will begin this Saturday, the 28th of June, inst. You are hereupon called to appear at 7 p.m. at Fort Scott National Historic Site for the trial and true deliverance made between the United States vs. Charles Bacon. You will listen to testimony of the accused and witnesses. At the conclusion of this testimony you, as good and faithful people, will decide the guilt or innocence of Charles Bacon on the charge preferred against him.
Ready to Stand Trial

Witness a reenactment of the trial of Charles Bacon. You become the jury. Read More
Did You Know?

At Fort Scott, several of the boxes and barrels are marked Fort Scott, MO. Not actually in Missouri, the fort was located four miles west, in what was then unorganized territory. The army used Fort Scott, MO as a shipping address to assure that supplies made it to the right place.