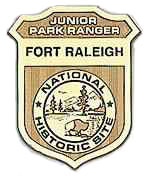 FREE!!!
That's right.........You're not dreaming. You can become a Junior Ranger at Fort Raleigh National Historic Site without leaving the safety and comfort of your computer screen...
FOR FREE!
and receive one of these great Junior Ranger Badges.
(The real one is a lot cooler than this JPG image and has a pin on the back so that you can wear it without having a monitor attached to your chest and dragging along a very long extension cord.)
The process is quick and painless...
Read through these articles (print them if you like), Freedom Comes to Roanoke Island and Roanoke Voyages, to find the answers needed to complete the required worksheets.
Print out the worksheets (all three!) and fill them in.
Finally, mail the completed worksheets to:
FortRaleigh National Historic Site
ATTN: JUNIOR RANGERS
1401 National Park Dr.
Manteo, NC27954
In just a few days you will receive your Junior Ranger Badge.