Thomas Hariot and John White
Raleigh's choice of Thomas Hariot and John White to witness and document the New World during the 1585 expedition was truly inspired. Through their work, we can glean knowledge about the native people and the character of the land on the eve of English colonization.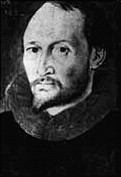 Thomas Hariot (1560-1621) was a lifelong friend and advisor to Sir Walter Raleigh and a leading intellectual figure of his time. He was an astronomer, mathematician, and master of navigation. Hariot founded the English school of algebra, constructed telescopes contemporaneously with Galileo, and discovered the law of refraction independently of Descartes. When chosen as scientist, observer, and chronicler for the 1585 voyage, he had been living in Raleigh's home teaching mathematics and navigation to his pilots. He explored, catalogued, and collected specimens from the New World but his accomplishments far transcended those duties. Hariot taught himself the Algonquin language and became the liaison between the settlers and the native people of the area.
In his widely-read A Brief and True Report of the New Found Land of Virginia, Hariot inventoried and assessed the area's natural resources in terms of commodities for food sources and building materials ranging from silk to iron. He also gave a detailed and perceptive account of the Carolina Algonquians' social structure, customs, clothing, crafts, agricultural methods and religious beliefs. Hariot chastised his fellow colonists for being "too harsh with them and killing a few of their number for offenses which might easily have been forgiven," yet he remained an enthusiastic supporter of colonization. He concluded in his work, "I hope there no longer remains any reason for disliking the Virginia project. The air is temperate and wholesome there, the soil is fertile…And in short time the planter may raise the commodities I have described. These will enrich themselves and those who trade with them."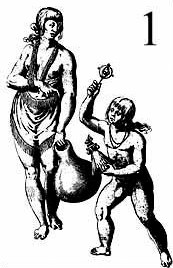 The second edition of Hariot's book was illustrated with engravings based on watercolors by John White (1540?–1606?). A skilled illustrator, it is possible that White was trained as a surveyor and was already acquainted with the New World - it is believed that he made his drawings of Eskimos while accompanying the 1577 Frobisher expedition to Baffin Bay in present-day Canada. Even when the publisher Theodore de Bry altered and copied his drawings as engravings for printing A Brief and True Report, John White's illustrations are an excellent complement to Hariot's text, recording the features, styles, and daily pursuits of the Algonquian people with detail and sensitivity.
His pictures ring true - they portray the Native Americans as neither base savages nor noble innocents, but as members of a culture adapting in harmony to its environment and worthy of attention and respect. He captures telling detail in a portrait, which was engraved as a copy by de Bry, of the wife of a chief (fig.1) wearing the arm sling indicative of high station. Her 8 year old daughter, pictured holding English toys, was still too young to wear a deerskin apron like her mother.
White so gained the confidence of the villagers that he quietly observed and recorded not only their ceremonies, but also their routine activities: fishing, canoe-making, farming and eating (fig. 2). Here, they eat boiled maize on a reed mat. Hariot observed "They are very sober in their eating, and consequently very long lived because they do not oppress nature."
White also employed expensive ochre and oxide pigments to make compelling, life-like renderings of the exotic wildlife (3). On the culinary aspects, Hariot wrote in language meant to disarm the uncertainties of future colonists and travelers. Regarding tortoises, he wrote "Their heads, feet and tails look very ugly, like those of a venomous serpent. Nevertheless, they are very good to eat."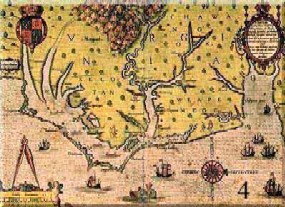 Furthermore, White's maps of the Roanoke Island area (4) were, for over 80 years, the base for most European maps of the region.