Archaeology at Fort Raleigh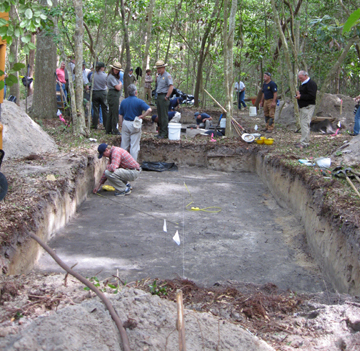 NPS Photo
A recent archaeological excavation conducted at Fort Raleigh National Historic Site provided discoveries that may help answer some of the many questions regarding the lost colony – one of American history's biggest unsolved mysteries.
In 2006, the National Park Service Southeast Archaeological Center conducted a ground-penetrating radar survey of three areas at the park. Although the survey identified many anomalies, it was determined that only two warranted additional field exploration. The two anomalies of interest appeared to be rectangular-shaped. Since rectangular-shaped objects do not normally occur in nature, it was presumed that these were manmade and might be structures or features associated with the early colony.
In May of 2008, ground-penetrating radar and radar tomography surveys were conducted to provide an accurate picture of what was buried beneath the surface. A team of archeologists and geophysicists, led by the First Colony Foundation, then began excavation work at the park. This work included both a series of test trenches and two large open area block-style excavation sites.
Many artifacts were recovered of which over 200 were from the Colington series. The Colington series is an archaeological grouping of artifacts from this region that includes the late 16th century – the timeframe of Raleigh explorers and colonists. The Colington series artifacts found at the park consisted of sherds (both Indian and European), fourteen copper alloy squares, seventeen milky-white glass beads, one copper rolled tubular bead (or aiglet), and a red clay Indian tobacco pipe.
The Colington series sherd finds included one crucible sherd from a melting pot used for metallurgy and one from a red Martincamp-type stoneware flask. Red Martincamp stoneware sherds/flasks have been found at Jamestown in the early 1607-1610 context. Additional research is being done on the Fort Raleigh sherd.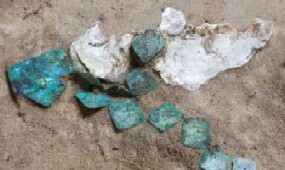 NPS
The fourteen copper alloy square plates were found buried near several oyster shells. Each plate is pierced at opposite corners and were laying corner to corner as if they were strung together to hang like a necklace. More analysis is till being conducted on these items to determine the timeframe of origin. Interestingly, some dark organic material, either leather or wood, covered the copper plates and was apparently preserved by the copper salts of the plates.
The other artifacts found date to time periods later than the lost colony. These include: pieces of an English tobacco pipe bowl, two pipe stem fragments, a gray flint (possible gunspall), a lead ball, one blue glass bead, Spanish olive jar sherds, three delftware glazed ceramic chips, nails, and window glass.
Additional archaeological surveys using ground-penetrating radar and radar tomography are planned for late 2008 or early 2009.