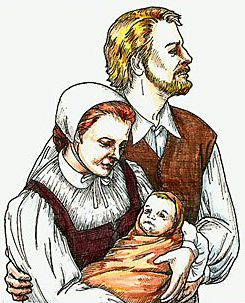 Vicki Wallace
Even Manteo's people were wary of the English for fear the white men would take their limited supplies of corn. The Croatoans explained to Stafford that Howe had been killed by some of Wingina's men, and soon White, Stafford, and two dozen men attacked the village of Dasamonquepeuc in retaliation. Surprising the village, they found not the Roanokes, but Manteo's people, the Croatoans, who had gone to gather the corn left by the Roanokes who had fled after killing Howe. Manteo blamed his own people who had not kept the English informed and helped to prevent further hostilities between the two groups. On 13 August 1587 the English showed their appreciation to Manteo by baptizing him and, by command of Sir Walter Ralegh, creating him Lord of Roanoke and of Dasamonquepeuc. Thus was the first Protestant baptism and the first granting of an English title in the New World. Five days later, on 18 August 1587, there was another joyous occasion. Elinor White Dare gave birth to a daughter, Virginia, the first child born of English parents in the New World. Later, Margery Harvey gave birth to a baby whose sex and name were not recorded.
In the meantime, Simon Fernandez had lain offshore for a month while the colonists unloaded their supplies. As the time for his departure drew nearer it became obvious that a leader of the colony must return to England with Fernandez in order to obtain badly needed supplies. None of the assistants wanted to go, and on 22 August 1587 the entire colony went to Governor White and asked him to return to England. White was in a dilemma. He was needed both to ensure the timely delivery of supplies and to govern the colony. On 25 August the colonists put their request in writing and Governor White agreed to sail.
Presumably, the seven assistants who remained on Roanoke Island were left in charge of the colony during White's absence. The Governor clearly understood that if the colonists should decide to leave the fort, they would carve their destination on a tree and add a Maltese cross if they had to leave because of attack.
The return trip to England was disastrous. When the fleet arrived at the Azores only five of fifteen seamen with White aboard the flyboat were fit for duty. Fernandez, aboard the Lyon "meant not to make any haste for England," but planned to "linger about the Islande of Tercera" in hope of capturing a vessel or two. So the flyboat headed eastward alone. Because of bad weather, the vessel did not reach Ireland until mid-October. White left the flyboat and went on to England.