Summer 2011 Weekend Cannon Firings
Date:
June 12, 2011
Contact:
Gloria Lee
, (912) 786-5787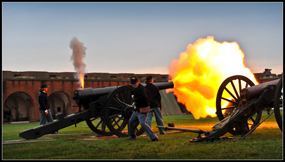 Leo Virant
Weekend Cannon Firings at Fort Pulaski National Monument

Starting Sunday, June 12, Fort Pulaski National Monument will offer cannon firings on both Saturdays and Sundays throughout the summer. Cannon firings will be offered three times daily on the weekends (staff permitting).

Fort Pulaski National Monument has one of the most active historic weapons programs in the United States. The park also features the nation's largest fully functional reproduction cannon. Historic weapons demonstrations follow historic guidelines and portray uniforms and equipment of the Civil War.

Fort Pulaski National Monument has been offering extended summer hours since Memorial Day weekend.

Summer hours are as follows:

Visitor Center 8:45 AM – 6:45 PM
Fort 9:00 AM – 6:30 PM
The park grounds close at 7:00 PM.

Fort Pulaski National Monument is on U.S. Hwy 80, 15 miles east of Savannah. An entrance fee of $5 per person is charged; ages 15 and under are free.