Effective October 1st, 2014 Fort Pulaski has updated its Academic Fee Waiver process.
If you tour Fort Pulaski National Monument with a Commercial Tour Guide you do not qualify for an Academic Fee Waiver.
For the National Park Service Guidelines on Academic Fee Waivers and a fillable fee waiver
form click here.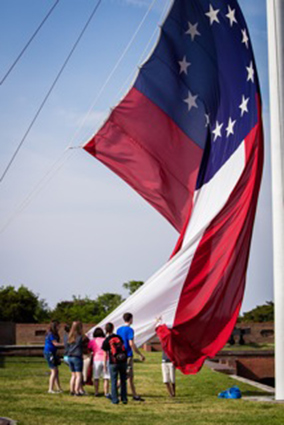 Photo by Amanda Coker
Field trips to Fort Pulaski are free when you complete an Academic Fee Waiver form. When you bring your students to Fort Pulaski, you will:
1) Learn about one of Savannah's most interesting historic sites.
2) Help meet specific Common Core and Georgia Performance Standards.
3) Have fun.
Reservations
Facilities
Food
Safety
Accessibility
Restrooms
You can schedule a ranger-guided field trip or a self-guided field trip.
Reservations
Reservations are required for all school group visits, and are confirmed on a first-come, first-served basis. Reservations are made with the submission of a fee waiver request form. Approval of the fee waiver will also qualify the group for a free visit to the monument. You can plan either a ranger-guided field trip or a self-guided field trip.
Facilities
Historic fort.
Visitor center, with bookshop, video and small museum.
Seventeen-minute video on the history of Fort Pulaski shown every half-hour.
Picnic area.
Nature trails.
Food
There is a picnic area, with covered tables and rest rooms, in the park. The picnic area is a three- or four-minute drive from the Fort parking lot (or about a 3/4-mile walk from the parking lot). In order to maintain the historic character of the Fort, picnicking is not allowed inside the Fort. There are no restaurtant facilities in the monument.
Safety
The fort is two stories. There are no railings on the upper level. Small children need to be very closely supervised on the upper level of the fort. While much of the fort is under cover, walking from place to place will take your group outside. And even when you are under cover, there is no climate control. So plan on being outdoors. Insects are common at any time of year, depending on the temperature.
Accessibility
The first level of the fort (including restrooms) is accessible to wheelchairs, but the top level of the fort is not accessible to wheelchairs. The visitor center and its exhibits are wheelchair-accessible. The picnic area is wheelchair-accessible.
Restrooms
There are restrooms inside the historic fort, at the visitor center and at the picnic area.