No Cannon Demonstrations on October 4, 2014

All historic weapons demonstrations have been cancelled for Saturday, October 4, 2014. We apologize for the inconvenience.
Parks as Classrooms
Pre-visit materials and self-guiding lesson plans are available for a range of grades.
Featured Lesson Plan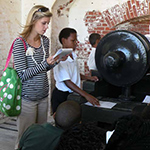 Cannons by the Numbers
Learn More
Field trips to Fort Pulaski are free! We have a range of self-guiding field trips or ranger-led field trips.
Plan a Field Trip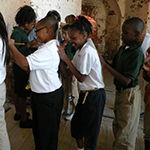 Students enjoying a field trip to Fort Pulaski
Learn More