The 1762 Cherokee & British Delegations
Discover the story of three Cherokee leaders who journeyed to London to meet with King George III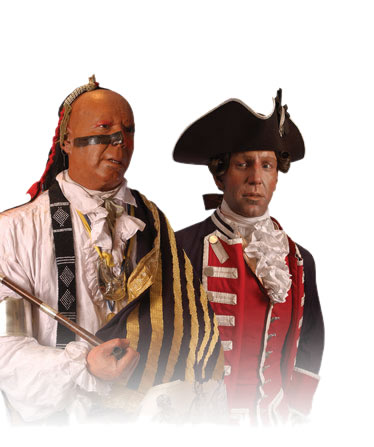 Opening April 21, 2012 at
Fort Necessity
National Battlefield
Exhibit Highlights
· The memoirs of Henry Timberlake, who lived amongst the Cherokee, come to life through original Cherokee artwork, music, videos, and life-size figures.
· Experience the two contrasting cultures as they emerge from war to seek peace.
· Teachers Guide to the exhibit available.
Emissaries of Peace has been on display at the Smithsonian Institution National Museum of American History in Washington, D.C., and at the McClung Museum at the University of Tennessee in Knoxville. Colonial Williamsburg's documentary film and electronic field trip based on Emissaries received an Emmy for sound production.
Sponsored by The National Park Service, the National Endowment for the Humanities, the Cherokee Preservation Foundation, First Citizens Bank, Harrah's Foundation, the Cannon Foundation, the Colonial Williamsburg Foundation, and the Museum of the Cherokee Indian.
For information: 724-329-5811