Kids! Collect stories about the Civil War and civil rights! The National Park Service is offering more than 500 trading cards to mark the 150th anniversary of the Civil War. Visit a park in person to earn a card (sorry, cards cannot be mailed). Ask a ranger or stop by the visitor center at a participating park. You can view all the cards online and discover stories from nearly 90 national parks in 31 states and the District of Columbia. You'll be surprised at what you will learn.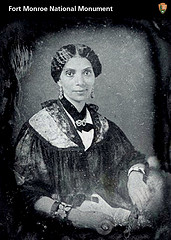 Courtesy of Hampton University Archives
Mary Smith Peake
Brave, Pioneering Educator
Born: 1823
Died: February 22, 1862
Hampton University traces its existence to the American Missionary Association and Mary S. Peake, its first African American teacher. Peake was asked to teach former slaves encamped for protection near Fort Monroe. Earlier in her life, Peake, a free woman, defied Virginia law to teach enslaved people to read and write.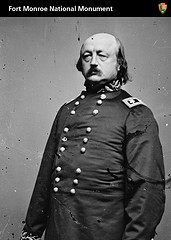 Major General Benjamin F. Butler
Born: November 5, 1818
Died: January 11, 1893
As Union commander at Fort Monroe in 1861 Butler decided that escaped slaves who made it to Union lines would have refuge and protection of the Union army. This sympathy for African Americans, combined with his harsh treatment of Confederate civilians under his jurisdiction, made Butler one of the most hated men in the South.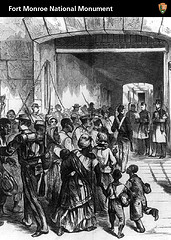 The Contraband Decision and "Freedom's Fortress"
In May 1861, three enslaved men escaped and sought freedom with the Union army at Fort Monroe. Major General Benjamin Butler declared them contraband because Confederates considered them property and they were working in war efforts against the U.S. This began an evolution in the legal status of enslaved people leading to President Lincoln's 1863 Emancipation Proclamation.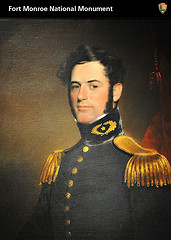 Robert E. Lee
Young US Army Engineer
Born: January 19, 1807
Died: October 12, 1870
As a 24 year-old West Point-trained engineer, Robert E. Lee was posted to Fort Monroe (1831-34) to help complete construction of the fort. Ironically, years later, as a Confederate general during the Civil War, Lee had to contend with the fact that the fort he helped to build remained in Union control throughout the war.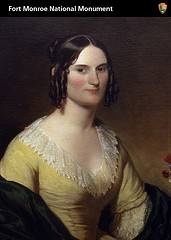 Mary Custis Lee
Born: October 1, 1808
Died: November 5, 1873
Mary Custis married Robert E. Lee while he was a young lieutenant posted to Fort Monroe. Like thousands of military families that followed, the fort became the family's temporary home; a domestic refuge from the business of defending the nation. The Lee's first child, son Custis Lee, was born at the fort in 1832.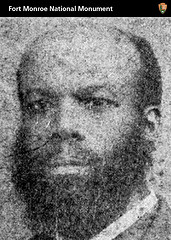 James Apostles Fields
Born: 1844, Hanover County, Virginia
Died: November 20, 1903, Newport News, Virginia
While enslaved, James Apostles Fields tended lawyers' horses at Hanover Courthouse. There, he witnessed debates over states' rights, secession, slavery and freedom. In 1862, Fields escaped to Union lines and freedom at Fortress Monroe. Later Fields graduated from Howard University Law School, practiced law in Newport News, and served in the Virginia House of Delegates.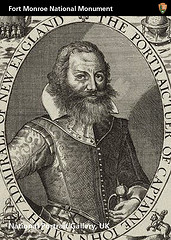 Captain John Smith
Captain John Smith and his crew were the first Europeans to see this spit of land. The following year they surveyed the site and Smith proclaimed it a "little isle fit for a castle." In 1609, the settlers built a wooden structure large enough to hold 50 men and seven cannon, calling it Fort Algernourne.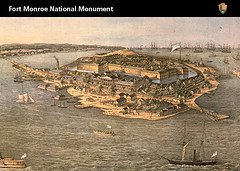 Fortress Monroe Coastal Defense Network
From lessons learned in the War of 1812, the U.S. built a Third System network of forts for seacoast defense. Fort Monroe was the first and largest of these forts and named for President James Monroe. Construction took 15 years (1819-1834). The fort protected Washington, D.C. during the Civil War.