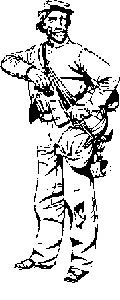 Prisoners at Fort McHenry During the Civil War
The prisoners spent their time engaged in a number of activities. They formed literary societies and debating teams. Many made trinkets which they traded for extra rations. There were daily ball games and rat hunts. Each evening, the prisoners staged a show.
Those imprisoned at Fort McHenry came from all classes of civilian population and from all ranks of the military. Among the most prominent civilians detained at the fort were the marshal of the Baltimore City Police force and the board of police commissioners, the mayor of Baltimore, a former governor of Maryland, members of the House of Delegates from Baltimore City and County, the congressman from the 4th Congressional District, a state senator, newspaper editors, including the grandson of Francis Scott Key, ministers, doctors, judges and lawyers. Prisoners of war included privates, officers, chaplains and surgeons.
At times, the inmate population swelled to numbers that severely strained the prison facilities. In February, 1862, there were only 126 prisoners at Fort McHenry. Early in 1863, the number of prisoners totalled 800. However, in July, 1863, following the battle of Gettysburg, there were 6,957 prisoners. After the large Gettysburg influx was dispersed, the monthly total ranged between 250 and 350 prisoners. During the last months of the war, the number dwindled sharply; and in September, 1865, there were only 4 prisoners at the fort. At the end of 1865, only a small detachment of Union troops remained to handle routine maintenance.
In contrast to the high death tolls at other prisons, the death toll at Fort McHenry was only 15. At least three men were executed at the fort. These included a Union soldier hanged for the murder of an officer, another, shot after having been found guilty of desertion and the attempted murder of several civilians, and a confederate sympathizer found guilty of murdering two civilians while practicing guerrilla warfare.
Because of its role as a prison camp during the Civil War, Fort McHenry became known as the "Baltimore Bastille."