Unmanned aircraft prohibited

Unmanned aircraft are prohibited from being operated within park bounderies. More »
Schedule Of Events
Search for Events
Events Upcoming for September
Showing 1 results

 RSS Feed
Saturday, September 6, 2014

Re-enactors present cannon firing on all tours axcept for the 9:30 and 4:30 tours. More

Time:

10:30 AM to 3:30 PM

Location:

at the Fort

Fees:

Free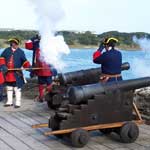 NPS Photo
The first Saturday of each month is Cannon Day at Fort Matanzas. (When the first weekend is a holiday weekend, Cannon Day will be the second Saturday.) Re-enactors present cannon firings for all tours except for the 9:30 and 4:30 tours. Check the calendar above for specific dates. Evening Torchlight Tours are presented on one Saturday night in January and February.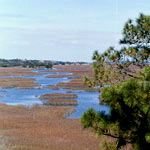 NPS Photo
Fort Matanzas National Monument frequently presents ranger or volunteer-led Nature Programs. These programs can vary in physical exertion from a stationary program in the picnic area, a short walk on one of the park's nature trails or a 2 mile hike along the park's beaches. Check the above calendar for specific details and dates for these programs.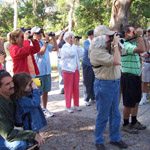 NPS Photo
Bird Walks are usually presented on the second or third Saturday of each month, October through May. Led by a member of the Audubon Society, these walks are from 9:30 to 11:30 and meet at the Fort Matanzas Visitor Center. Check the above calendar for specific dates.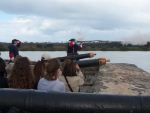 NPS Photo
Musket Firing Demonstrations take place on most Saturday afternoons. Re-enactors fire flintlock muskets on all afternoon tours except the 4:30. Musket firings will not take place on Cannon Firing Days. Weather and staff permitting


Did You Know?

The Gulf Stream was first described by Spanish explorer Ponce de León in 1513. It was the first leg of the route home for the great Spanish treasure fleets. Ft Matanzas National Monument, Florida