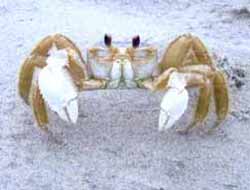 Michael Frick -- S. Carolina DNR
Atlantic Ghost Crab (Ocypode quadrata)
Another denizen of the ocean beach is the Ghost Crab. These odd creatures are called "ghosts" because of their ability to disappear from sight almost instantly, scuttling at speeds up to 10 miles per hour while making sharp directional changes. Their light color blends into the sand so well that when they stand still, they are nearly invisible.
Ghost crabs dig deep burrows in the dunes above the high tide line. They leave the safety of their burrows mostly at night and scurry along the beach in search of food. Although ghost crabs spend most of their lives on land, they still have gills that they must keep wet in order to breathe. So, when you see a ghost crab run down to the water, it is usually wetting its gills. Opportunistic and scavengers, these crabs are one of the predators of sea turtle eggs and hatchlings.
Back to the Ecosystems page . . .
Back to the main Nature page . . .