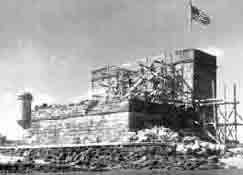 NPS Photo
Restoration
On October 15, 1924, using the power granted in the Antiquities Act, President Calvin Coolidge named Fort Marion (The Castillo de San Marcos) and Fort Matanzas as national monuments. During the late 1920s, extensive repair was done on Fort Matanzas. The garita (sentry box), which had fallen off, was rebuilt. Iron rods were placed within the tower, and the gun deck parapet and lower walls were rebuilt. The land on Rattlesnake Island surrounding the fort was set aside as a bird sanctuary.
With the War Department divesting itself of obsolete forts, the forts were transferred from the War Department to the National Park Service on August 10, 1933. In the 1930s Fort Matanzas became a WPA project. A steel bulkhead and two groins were built along the water. The vaulted ceiling in the officer's quarters was rebuilt, and wooden stairways were constructed both into the fort and up to the officer's quarters.
Additional land on Anastasia Island was also acquired at this time, and a dock and visitor center/superintendent's house were constructed of coquina. For the first time, people without boats could get to the shorelne and look across the river at the historic fort.