Operating Hours and Seasons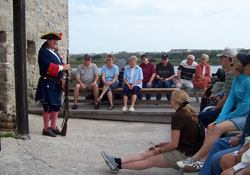 L. Chandler -- NPS Photo
Fort Matanzas National Monument is open every day of the year except December 25 from 9:00 am to 5:30 pm.

Ferry times:
The ferry to the fort leaves the Visitor Center dock at the following times, weather permitting: (Every hour at half past) There is no charge for the ferry service.
9:30 a.m. 1:30 pm.
10:30 a.m. 2:30 pm.
11:30 a.m. 3:30 pm.
12:30 p.m. 4:30 pm.

Note: Mechanical issues or adverse weather conditions such as high wind or lightning in the area may shut down ferry operations temporarily.
Visitation is highest March through July, mid-December to January 1, and holiday weekends throughout the year. Visitation is at its lowest from mid-August through mid-November. During busy periods, boarding passes are issued for each tour. Please stop in the visitor center for your free passes. Every passenger, including babies and children, needs a pass.
Did You Know?

Did you know that the live oak trees in the picnic area at Fort Matanzas are over 150 years old? The park also has an eastern red cedar located on the island near the fort that is over 260 years old, as old as the fort itself! Ft Matanzas National Monument, Florida