Nearby Attractions
History
Fort Larned is located along the Santa Fe National Historic Trail, and there are many opportunities to learn more about the trail and its history all along the way.
Four miles east of Fort Larned is the Santa Fe Trail Center, a museum and library.
Sixteen miles east of Fort Larned is Pawnee Rock State Park, home of the well-known Santa Fe Trail landmark.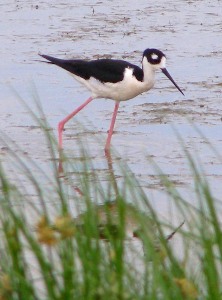 Nathan King
Wildlife Viewing
While many birds and other wildlife may be seen at Fort Larned, the nearby Cheyenne Bottoms Wildlife Refuge and Quivira National Wildlife Refuge offer phenomenal opportunities for birding and other recreation.
Scenic Drives
Kansas Scenic Byways include the Wetlands and Wildlife Scenic Byway near Fort Larned. The byway traverses scenic rural Kansas landscape and connects Quivira and Cheyenne Bottoms.
More Information
Did You Know?
The 10th Cavalry, an all-black regiment, was stationed at Fort Larned from 1867 to 1869. They departed after a fire ripped through the regiment's stables, killing dozens of horses and destroying valuable supplies and equipment. More...