Climate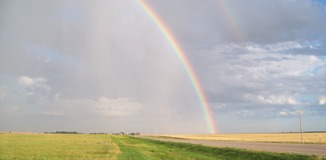 NPS
Weather
Current weather and forecast for Fort Larned National Historic Site (NOAA).
Climate
Western Kansas has a four season climate typified by long, warm summers, cool winters, short spring and fall seasons, and nearly constant breeze. Humidity is relatively low compared to the eastern portion of the state.
The average high is 70 or above May through October. July and August are the warmest months with average highs in the 90s. July is the wettest month with an average of about 3.7 inches of rain. Winter is milder than more northern latitudes with average lows in December through February of 18 to 22 degrees Fahrenheit. Snow does occur in winter and can drift substantially.
For more information about traveling safely on Kansas roads, visit Kansas Road Conditions.
Storms and Tornados
When you think of Kansas, you might think of tornados. However, tornados are actually less common in Kansas than they are in several other states. Still, the potential for violent storms and tornados does exist. In the event of a violent storm or tornado, Fort Larned staff will direct visitors to planned safe zones.
Did You Know?
In 1859, Capt. George H. Steuart oversaw the establishment of Camp on Pawnee Fork, which later became Fort Larned. He later joined the Confederacy and was captured at Spotsylvania by General Hancock. Hancock came to Fort Larned in 1867. More...