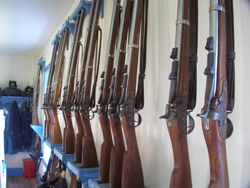 NPS
Infantry
Infantry weapons at Fort Larned mainly consisted of several generations of Springfield rifles. In the fort's early days, the Springfield rifle muskets were the .58 caliber, muzzle-loading variety, such as the M1855, M1861, and M1863. Following the Civil War, .50 caliber breech-loading weapons including the M1866 and M1868 became available to troops at Fort Larned. These newer weapons featured modern bullets, simplifying the loading procedure. Later models such as the M1868 and M1873 featured shorter barrels than earlier models. The M1873 also saw its caliber size reduced to .45 caliber.
Infantry also carried bayonets, though they were ineffective in combat against mounted warriors armed with superior melee weapons. As faster-loading guns became available, bayonets and bayonet tactics became less important than they were in an age of slow-loading muskets.
Cavalry
Equipped with speed and mobility in mind, mounted soldiers used smaller rifles called carbines in order to save weight. However, this lighter firepower was augmented with the addition of revolvers and sabers. Sharps carbines were typical; the 10th Cavalry used the M1865 .56/50 Spencer carbine at Fort Larned. Cavalry units utilized a variety of revolvers including Colt, Remington, and Starr revolvers. Sabers were also part of the complete armament of cavalry, though they were typically more ornamental than practical during the Indian Wars.