Fort Dupont Community Gardens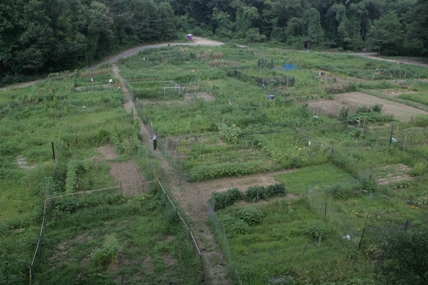 Ranger Kevin Barry
Welcome to Fort Dupont Community Gardens, a place of physical, mental, spiritual, and social renewal.
Interested in obtaining a garden plot for the upcoming season?
Then you must attend one of the mandatory 2-hour Garden Orientation Course at the Fort Dupont Activity Center. After the class you can register for a plot for the 2014 garden seasons.
2014 Classes:
Saturday, February 22 at 10:00 AM
Saturday, March 22 at 10:00 AM
Saturday, April 05 at 12:00 PM
At the conclusion of the orientation session, everyone has an opportunity to choose a plot. Anyone who fails to present a photo ID will not be assigned a garden plot at the meeting. Plots are assigned one per person. Plots are assigned only to persons 18 years old or older, and there will be a limit of 2 plots per address.
DC's Field to Fork Network

Stay tuned with all the in and outs with area gardeners through the Field to Fork Network. Read More

Honey Bees!

V.I.P. Andrejs talks with a group about the importance of pollination to the community garden

Dibbles n' Buds

click here to view the latest issue of the Fort Dupont Park Garden newsletter. Read More

City Bees blog

This is the story of a beginning beekeeper in a major US urban center. The blog starts with setting up the first hive and moves through the present. Read More
Did You Know?
Every spring visitors to Fort Dupont Park experience the re-birth of several beautiful wildflowers, shrubs and trees, including the Mountain Laurel (Kalmia latifolia L.) shown to the left. Mountain Laurel likes to grow in the Park's upland region along the ridge line in several civil war sites in and around the park. More...