Park Staff
Directions to Fort Donelson National Battlefield "main unit," Dover, Tennessee:
Using a GPS? You can use the following addresses:
Visitor Center: 120 Fort Donelson Road, Dover, TN, 37058
Fort Donelson National Cemetery/ Park headquarters: 174 National Cemetery Road, Dover, TN 37058
Dover Hotel: 101 Petty Street, Dover, TN, 37058

Plane
The area is served by airports in Nashville and Jackson, Tennessee or Paducah, Kentucky. Car rental services are available.

Car
The park is located in Dover, Tennessee, northwest of Nashville. From Nashville, take I-24W to Clarksville (Exit 4). Take a left on Wilma Rudolph Boulevard, until you reach 101st Airborne Division Pkwy/Hwy 374. Take a right at this intersection. Follow Hwy 374, until you reach Hwy 79. Turn right on Hwy. 79 South. Follow signs to Dover (approximately 30 miles). The visitor center is one mile west of the town.
From Paducah, KY: Take Interstate 24 East to exit KY31, and go south on Hwy 453 to Land Between the Lakes (LBL). Follow this road through LBL to US Hwy 79. Take a left on US Hwy 79; the park visitor center is approximately 1.3 miles.
From Murray, KY: Take 641S to Hwy 121. Drive approximately 30 miles on Hwy 121, until you reach Hwy 79 at Paris Landing. Take a left on Hwy 79, and follow signs to the park (approximately 13 miles).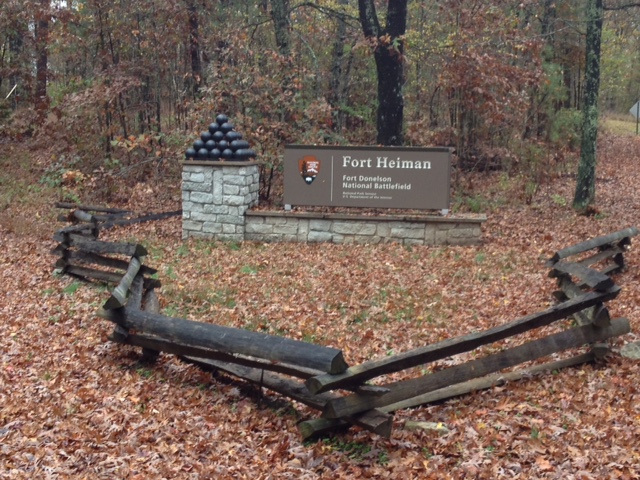 NPS
To visit the Fort Heiman unit of Fort Donelson National Battlefield:
*The physical address is 682 Fort Heiman Road, New Concord , Kentucky.
*From the Paris Landing (TN) area, take TN 119 (close to the Paris Landing State Park Headquarters building) and travel north. TN 119 turns into KY 121 at the state line.
*From the Murray, Kentucky, area, take KY 121 south.
Google maps may help you determine directions from your starting location: https://www.google.com/maps/dir/
(Please be aware that cell signal may be lost occasionally on TN 119/ KY 121)
As a relatively new addition to the park, Fort Heiman is not largely developed. The National Park Service protects more than 160 acres at the site. Be cautious of road conditions, and always be alert for poison ivy, poisonous snakes, stinging insects, and spider webs.