Confederate States Order of Battle
Fort Donelson Confederate States of America Order of Battle
Brigadier General John B. Floyd, Commanding
Brigadier General Gideon J. Pillow's Division




Colonel Heiman's Brigade

10th, 30th, 42nd, 48th, 53d Tennessee Infantry

27th Alabama Infantry

Maney's Tennessee Battery Light Artillery

Colonel Simonton's Brigade

1st, 3d Mississippi Infantry

7th Texas Infantry

8th Kentucky Infantry

Colonel Wharton's Brigade

51st, 56th Virginia Infantry










Colonel Drake's Brigade

4th Mississippi Infantry

15th Arkansas Infantry

26th Alabama Infantry ( 2 companies)

Colonel Baldwin's Brigade

26th Tennessee Infantry

20th, 26th Mississippi Infantry




Artillery

Guy's Battery, Goochland (VA) Light Artillery

Green's Tennessee Battery Light Artillery

French's Virginia Battery Light Artillery

Brigadier General Simon B. Buckner's Division




Colonel Brown's Brigade

3d, 18th, 32nd Tennessee Infantry

Porter's Tennessee Battery Light Artillery

Graves' Cumberland Kentucky Light Artillery










Colonel Baldwin's Brigade

2d Kentucky Infantry

14th Mississippi Infantry

41st Tennessee Infantry

Jackson's Virginia Battery Light Artillery




Colonel Nathan B. Forrest's Cavalry Brigade
3d Tennessee Cavalry Regiment

9th Tennessee Cavalry Battalion

1st Kentucky Cavalry Regiment
Colonel John W. Head's Fort Donelson Garrison Units
30th, 49th, 50th Tennessee Infantry

Maury's Tennessee Battery Light Artillery (Ross)

Taylor's Company Tennessee Light Artillery (Stankiewicz)

Water Battery Heavy Artillery (Culbertson)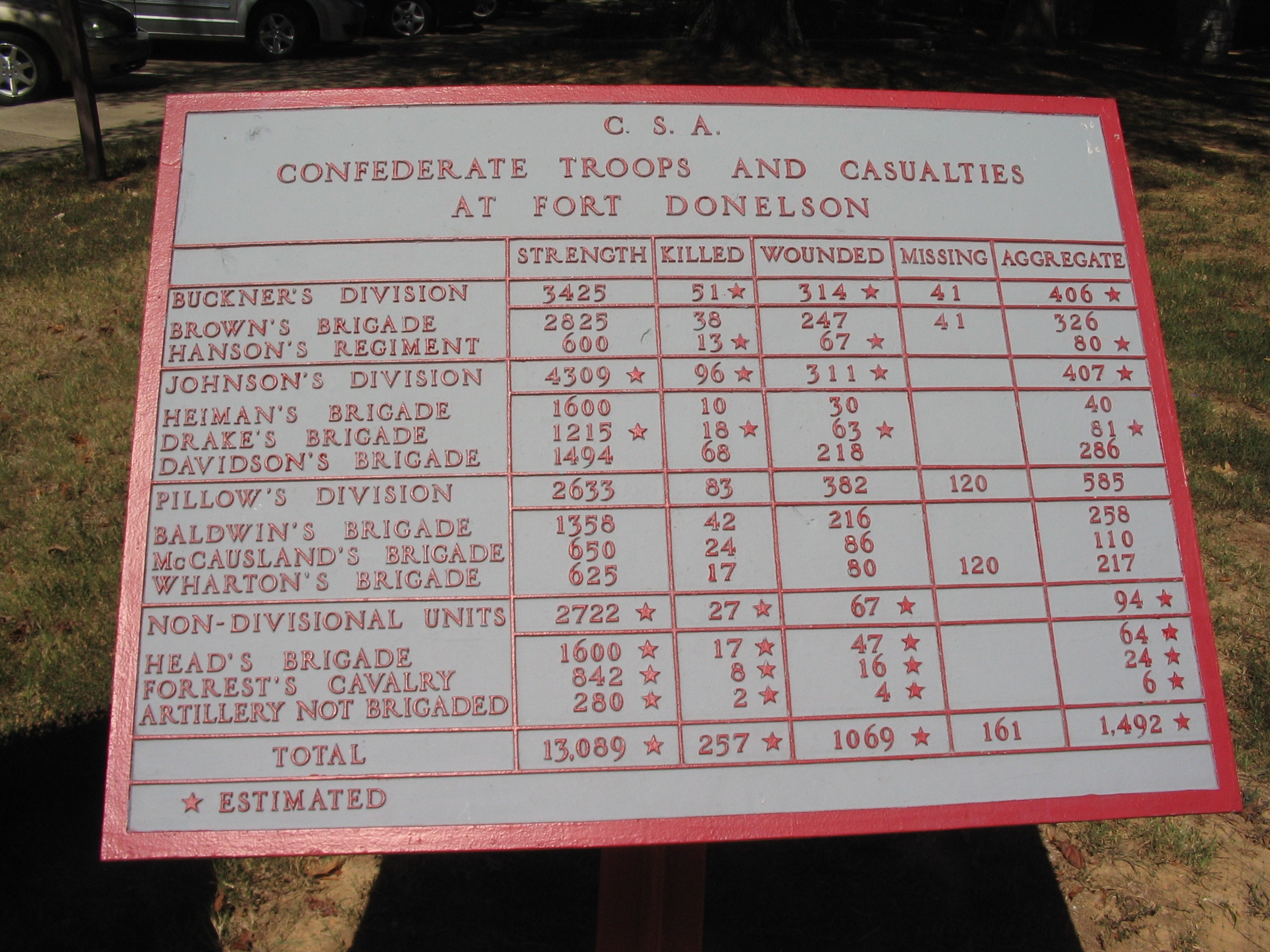 United States War Department tablet showing Confederate troop strengths and estimated casualties from the 1862 Battle of Fort Donelson.


Did You Know?

The embrasures at Fort Donelson were constructed of sand bags lined with rawhide. The rawhide was
wet down to prevent the bags from catching fire during an engagement.