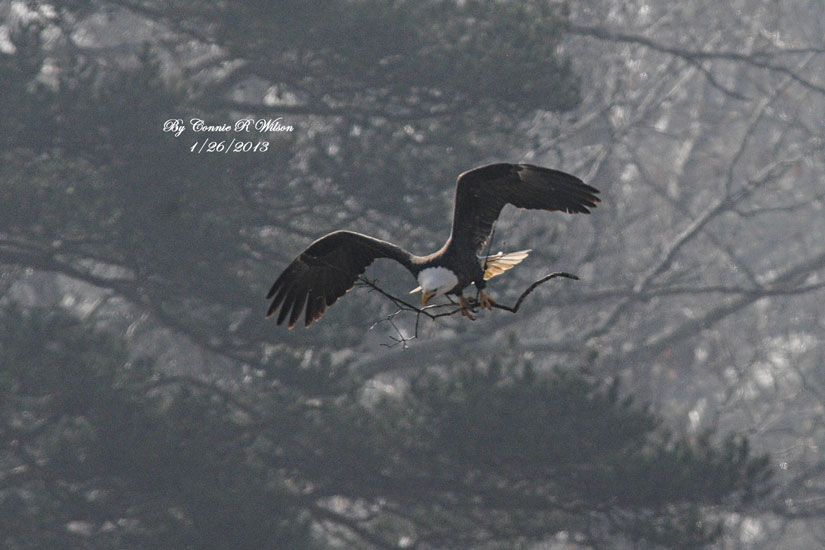 Work on the nest for the 2013 season continues. Thanks to Connie Wilson for this terrific photograph, taken January 26, 2013.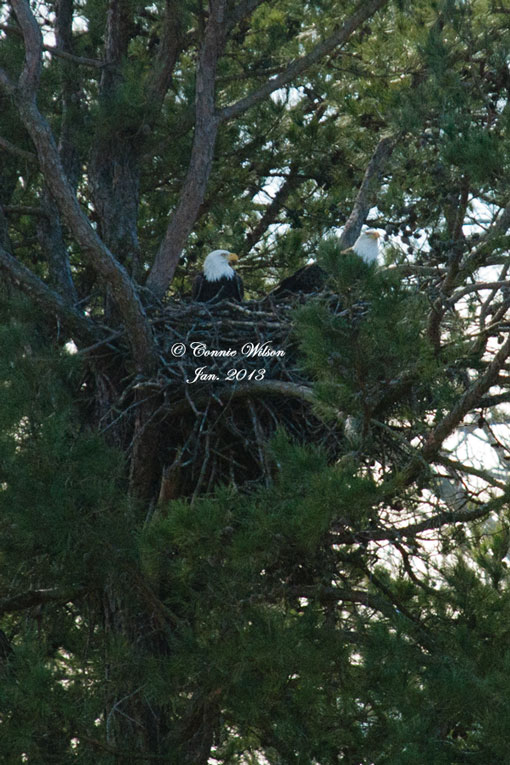 Connie Wilson, Fort Donelson Volunteer
The Fort Donelson eagles are preparing the nest for the upcoming season. Thanks to Connie Wilson for this photograph of January 3, 2013.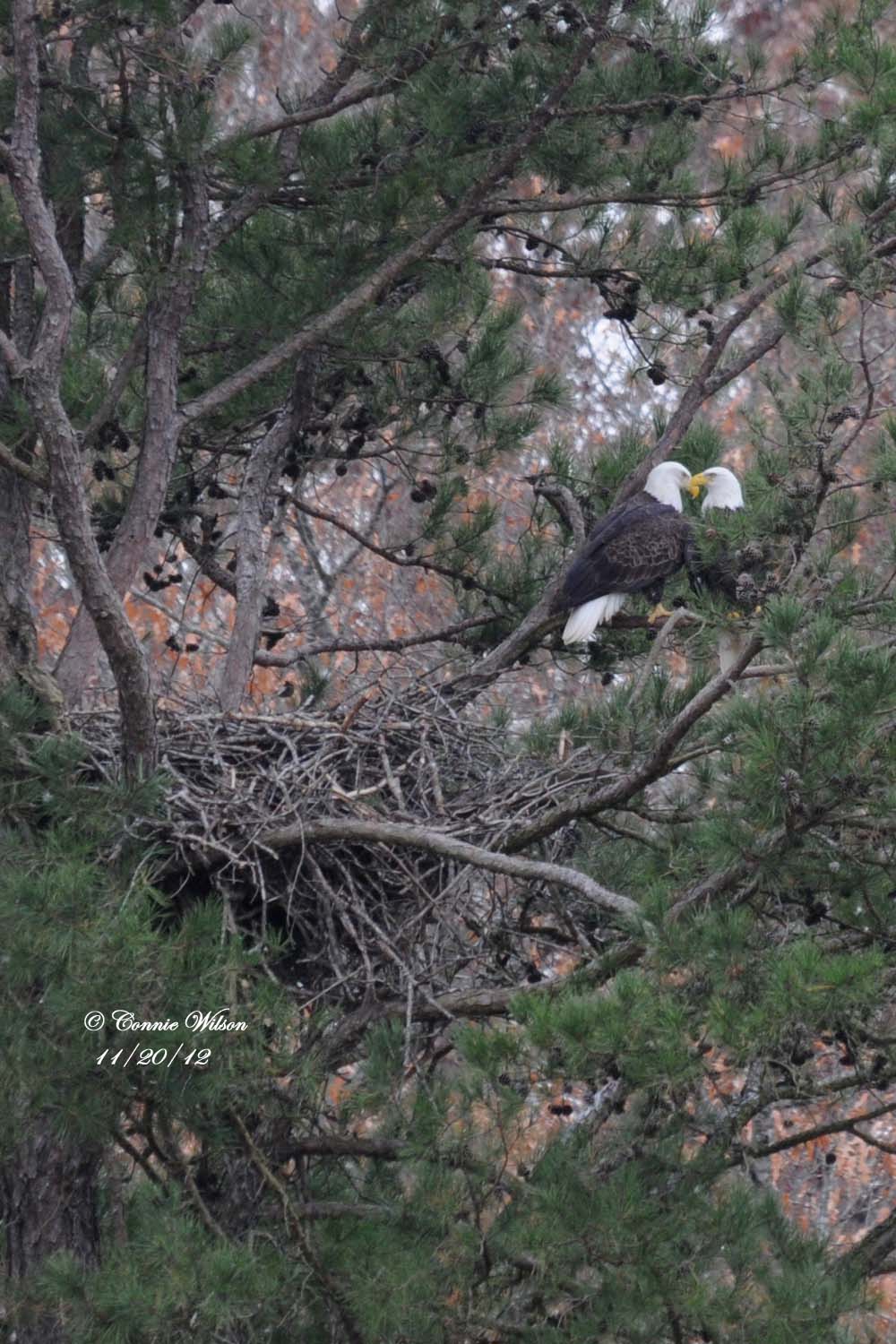 Connie Wilson, NPS Volunteer
As our nesting pair prepares for the winter season, we are graced with this magnificent photograph by Fort Donelson Volunteer photographer Connie Wilson. Taken November 20, 2012.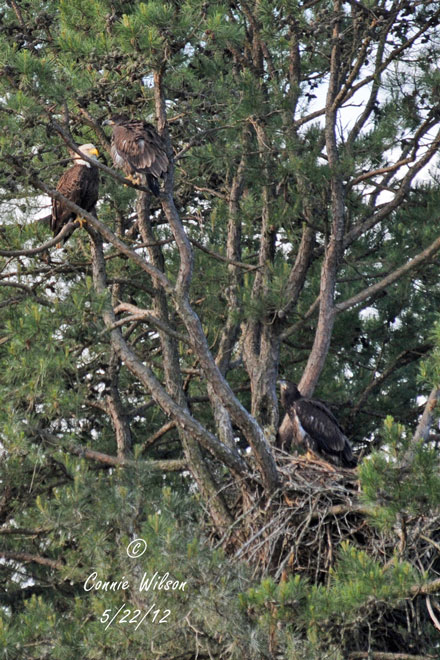 We are all on pins and needles here at Fort Donelson, as we anxiously await the takeoff of our two eaglets. Park Volunteer Connie Wilson took this photograph on May 22, 2012...showing the family unit.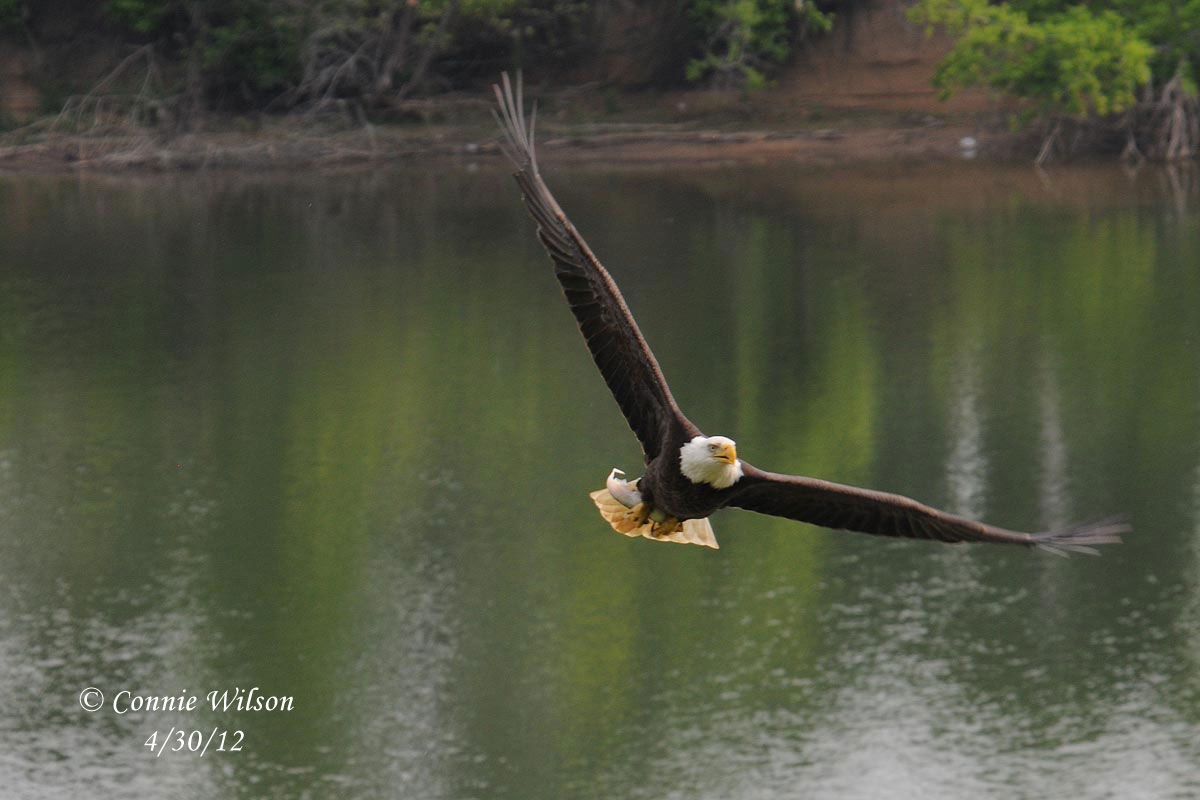 Connie Wilson, Fort Donelson NB Volunteer-in-Parks
This is such a remarkable image...bringing new meaning to the phrase "carry-out dining."
Thanks to Connie Wilson for the photograph, taken April 30, 2012.

Connie Wilson, Fort Donelson NB Volunteer
It's truly amazing how quickly these young eagles grow. These eaglets are just about five weeks old. Photograph taken April 10, 2012.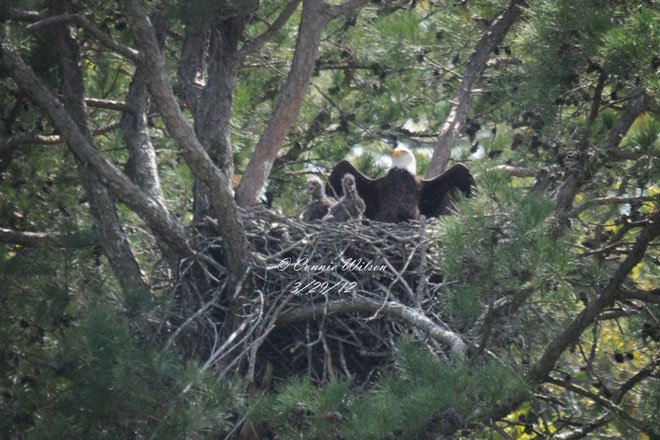 Connie Wilson, NPS volunteer
The winter of 2011/2012 proved to be not much of a winter at all. All of the trees and flowers bloomed earlier than normal, and allowed our eagle watching to be a little more comfortable.
Each day, at 9:30 AM, we had a public program where we looked for and monitored the locations of the eagles. Our volunteers believed that the first hatch was on March 5, 2012, and on March 29, 2012, park volunteer Connie Wilson took this remarkable photograph.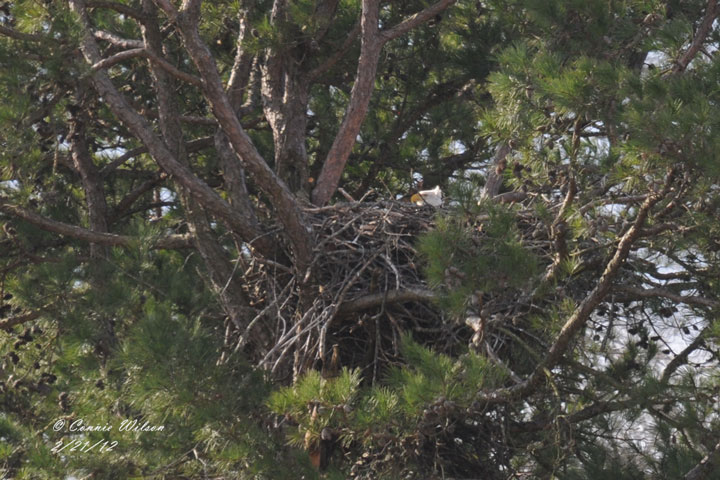 Connie Wilson, NPS Volunteer
Right now, you will almost always see one of the eagles on the nest. In addition to the River Batteries and tour route stop #3, a good place to view them is at tour route stop #2, at the entrance to the Fort. This great photograph was taken by Connie Wilson on February 21, 2012.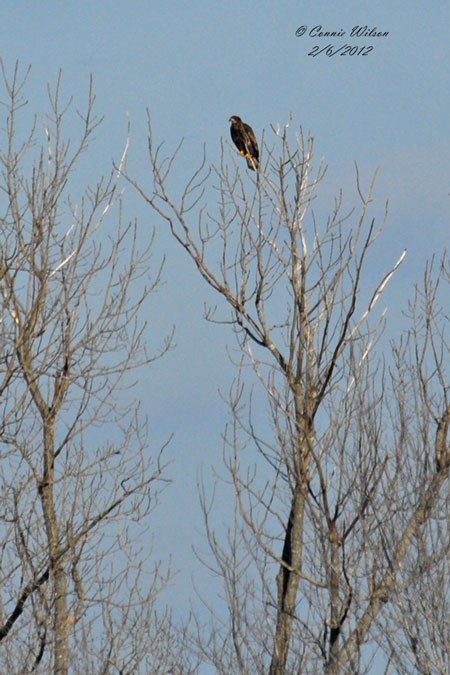 There is an increase in the population of American Bald Eagles in this region, and more sightings of juveniles. Park volunteer Connie Wilson took this photograph of a juvenile on February 6, 2012.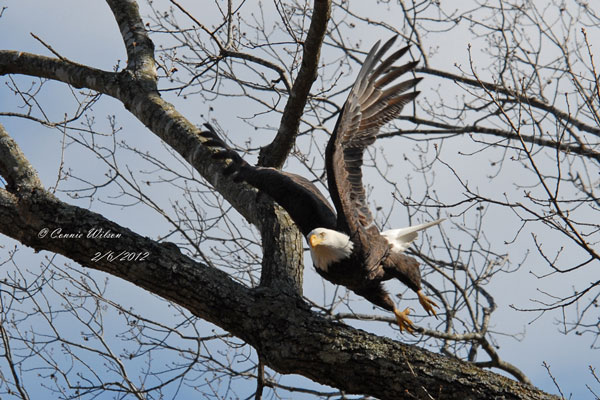 Park volunteer Connie Wilson took this wonderful photograph near the entrance to the Fort on February 6, 2012...incidentally, the 150th anniversary of the Battle of Fort Henry.
Thanks Connie!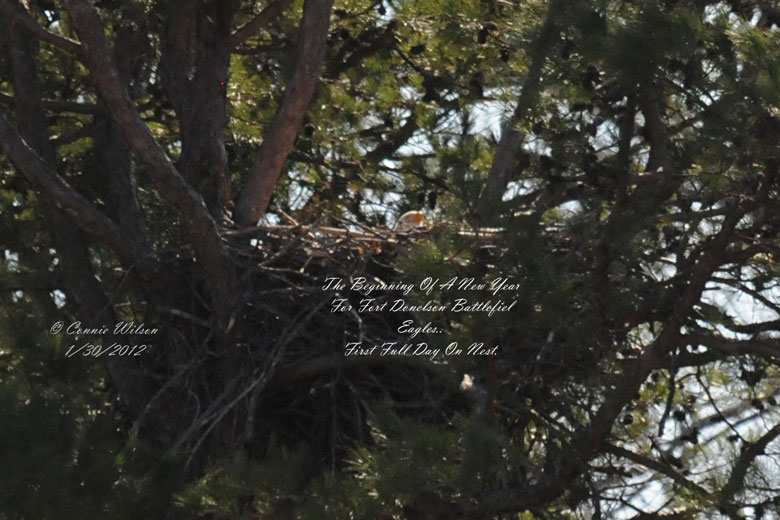 It was en exciting day on Monday, January 30, 2012...volunteers Connie Wilson and Luther Cole reported their belief that there was an egg in the nest. Always a thrilling moment. Thanks, folks, for your good work.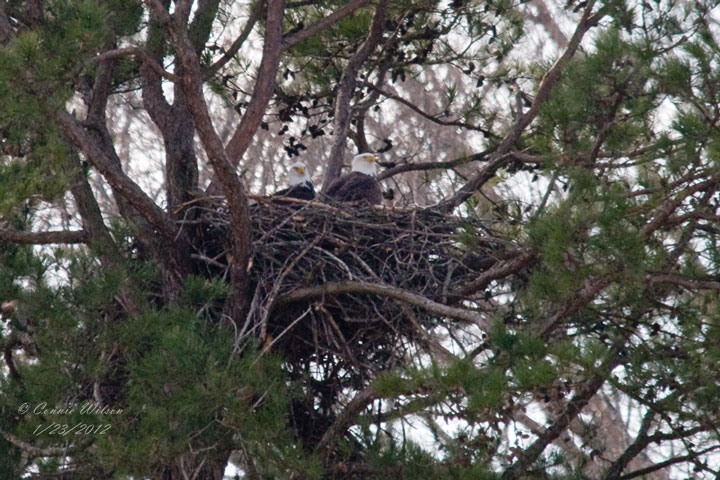 NPS
Monday, January 23, 2012.

Today, Fort Donelson NB volunteer Connie Wilson observed the eagles for us between 7:50AM and 11:00AM. During the evening hours, between 10PM and midnight, the area experienced high winds and heavy rains.

Mrs. Wilson observed one eagle perched at the lower battery. She observed that the nest looked stable despite the storms.

She also spotted a juvenile at 8:30AM soaring above the Upper Battery. At 8:45AM, one adult was sitting on the nest.

Thanks for your work, Connie
_________________________________________________________________________
A remarkable thing happened on August 5, 2011...one of our eaglets came home to Fort Donelson after some time at Reelfoot State Park for some rehabilitation.
One of our eaglets went to Reelfoot in June because of concerns park staff had that she seemed under-developed. During her time at Reelfoot she put on a few pounds and continued to transform into a magnificent creature.
A special thanks to our friends at Reelfoot State Park for their help, and we hope that our eaglet can resume a normal life at Fort Donelson.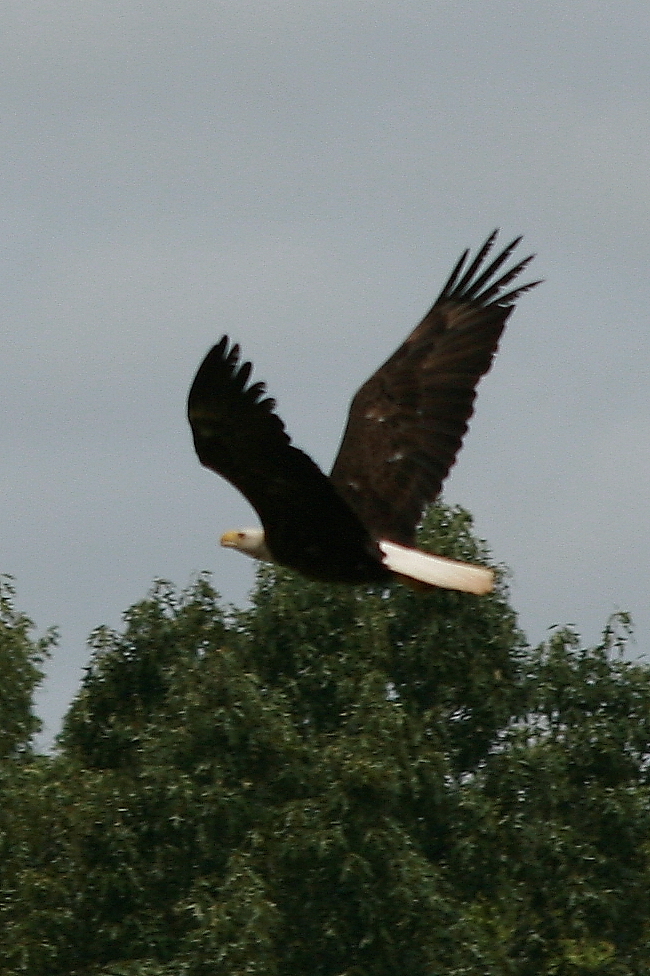 Photo by Fort Donelson NB visitor Jennifer Dye. Thanks!
Who needs plasma televisions and hundreds of channels when you can come to Fort Donelson and see these magnificent creatures?
June of 2011 was an exciting time at Fort Donelson with our Eagles. On June 2, one of our wonderful volunteers, Shirley Knight, witnessed one of the new eaglets flying about ten feet over the nest. The first eaglet fledged on June 6. The second eaglet fledged on June 8.
On June 13, the park staff was concerned about one of the eaglets, who seemed to be struggling. Our friends with the Tennessee State Park system felt it was in the eaglet's best interest to be examined, so the eaglet was taken to Reelfoot State Park, where she is being monitored. It is hoped that this eaglet can be returned to her home at Fort Donelson soon and become part of the natural order.
The other eaglet was frequently seen in trees by the upper and lower river batteries, and, on June 30, attempting to snatch a lunch from the river.
Special thanks to Fort Donelson volunteers Shirley Knight, Luther Cole and Connie Wilson for their work in sharing our Eagles with visitors.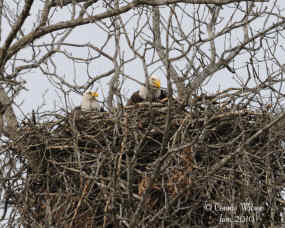 Connie Wilson VIP
These photos were taken January 6, 2010. Both eagles were sitting in the trees, side by side. Later in the day, they collected branches, leaves, and grass, adding them to the nest to make it sturdier and warmer for when the female lays her eggs.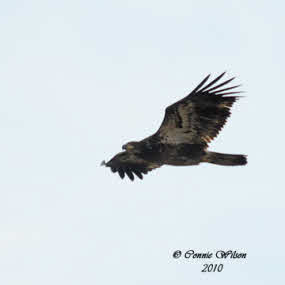 Connie Wilson
Juvenile & Immature Visit
January 28, 2010, I witnessed a juvenile and an immature eagle making a visit to the fort. The juvenile maybe a last year eaglet and the immature I am guessing to be around a 4 year old due to the coloring of the head and beak. These young eagles pose a threat to the adult eagles that are getting ready to lay their eggs. These young eagles want to come inside the nesting area and try to take over the nest or they could be just migrating through. Either way, the Fort's eagles do not want them around.
As snow fell on January 29th some of us eagle viewer's worry about the nest holding up to the winter conditions. For all of you out there concerned about the nest, it survived the 6 to 8 inches of snow.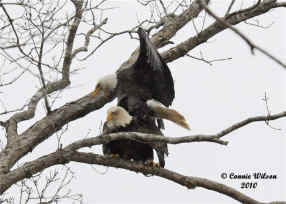 Connie Wilson
As January 2010 has come to an end, the Fort's Bald Eagles are still preparing their nest for their 2010 family. The mating of the eagles has been witnessed several times in the past few weeks. The pair will continue to mate until it's time to lay eggs. This to my calculation should be within the next week or so. The eggs will be laid one at time in 2 to 3 day intervals.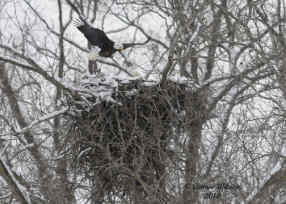 VIP Connie Wilson
Feb. 10, 2010
As February has brought us snow, it seems the eagles continue to bring in leaves and small branches to the nest to help keep the eggs warm. As you can see here the snow has covered the nest.
The adult eagles' body temperature is 120 degrees and having around 7000 feathers that cover their body, they are comfortable in these cold temps we are having.
Hopefully we will see baby eaglets heads appearing over the top of nest by mid March. The hatching date should begin somewhere around the first or second week in March.