First Bloom 2010 Meetings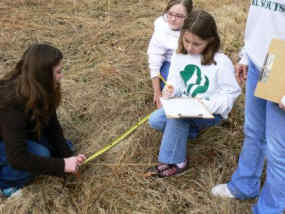 Park Staff
Milder temps were great for First Bloom January Meeting!
Snow and freezing weather caused us to cancel our January 9 meeting but we met two weeks later on January 23 and had better weather with warmer temps at 50 degrees. Ranger Debbie introduced base map particulars and tools needed to complete their garden design. Leaders and girl scouts divided into two groups to collect field observations and measurements at park planting sites.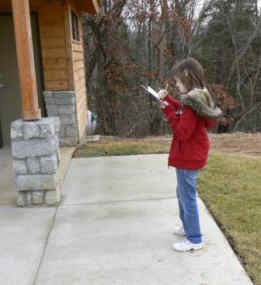 Park Staff
When girls were finding north on their compass they noticed a resident bald eagle perched in an oak tree near by. It was a big WOW for them! Scouts traveled back to meeting room to enjoy refreshments and compare field notes. Group's excitement continues to build as they learn more about native plants and creating their garden at Fort Donelson NB. As one first bloomer summed up the day . . . "that was awesome . . . we liked working as a team."