Saturday's Civil War Singers Concert Relocated Because of Heat

This Saturday's Civil War Singers concert, originally scheduled for the River Batteries, has been moved to the park's visitor center, still scheduled for 6:00 PM. High temperatures are expected for the next few days in this area.
Welcome Teachers and Educators! Fort Donelson National Battlefield is an American treasure, and is one of the best Civil War outdoor classrooms you could imagine. We have some incredible stories to tell, and we would like to share them with you.
 At the park you can see the original walls of Fort Donelson, the Confederate River Batteries, miles of surviving earthworks, the Dover Hotel, where history was made, and more...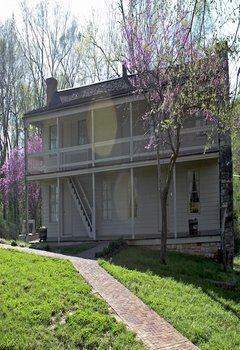 NPS
Fort Donelson National Battlefield and its staff are pleased to offer the following to help you have a successful curriculum based education program experience:
*A Park Ranger can visit your classroom (staffing permitting) to help lay the groundwork for a meaningful field trip to the park.
*Traveling trunks...a hands on experience in a box...that explore a variety of different themes.
*Lesson plans and a special DVD that we can provide to make your job easier.
*A variety of field trip opportunities, where students can learn about the Civil War, this battle...and even some of the flora and fauna to be found here.
The best part? We do not charge anything for any of this.
NPS Art Collection, Andy Thomas, artist