Nearby Attractions
The Sublette Cutoff of the Oregon Trail passes 5 miles north of Fossil Butte National Monument. "Emigrant Springs", an aspen grove and spring where weary emigrants rested before venturing west, is accessed via 15 miles of gravel road. Graves of emigrants who died along the trail in the 1800's are accessible from the main gravel road via one mile of deeply rutted dirt road. A high clearance vehicle is recommended. Contact the Kemmerer Bureau of Land Management office at 307-828-4500 for information.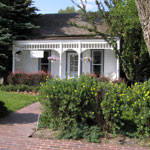 NPS photo
Nearby Kemmerer is the home of the first J.C. Penney store and Penney's original homestead.
Kemmerer's Fossil Country Museum introduces visitors to coal mining, bootlegging, cattle rustling, and fossils of the area.
Fort Bridger State Historic Park
is approximately 60 miles south of the national monument. Fort Bridger, established as an emigrant supply stop along the Oregon Trail in 1843, became a military outpost in 1858. Several restored historic buildings, a trading post and museum remain on site.


Weather Information

Weather plays a major role in the enjoyment of any visit. Get the latest weather forecast Read More

Things to know before you come

Good information to help you plan your visit Read More

Places to Stay and Eat

Nearby communities provide lodging, camping, restaurants and other services you might need. Read More
Did You Know?

Plant fossils, like palm fronds, tell us that 50 million years ago, southwest Wyoming's climate was much like Florida's is today.