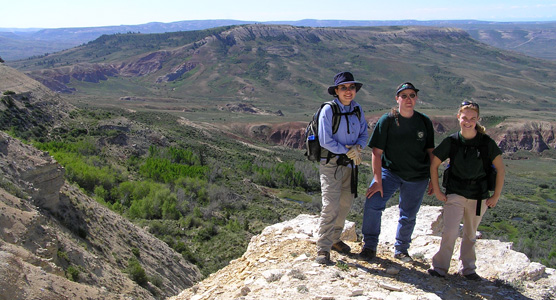 NPS photo
Internships
Fossil Butte National Monument offers two-three internships for qualified applicants through the Geological Society of America's GeoCorps program and the Student Conservation Association.
GeoCorps Interns perform a variety of interpretive activities including the operation of our fossil research quarry, demonstrating fossil preparation techniques, presenting geology/paleontology-themed programs, staffing visitor center information desk, assisting with spring/fall school group visits and assisting with cultural and natural resource management projects including organizing museum collections, and assisting with research projects. Apply through the Geological Society of America's Geoscientists-in-the-Parks program.
Student Conservation Association interns assist with our invasive plant control program. Apply through the Student Conservation Association.
Applicants must be 18 years or older and have a valid driver's license and a good driving record. A government security background clearance may be required. Applicants must be able to hike in rocky terrain at elevations up to 8,000 feet. Academic background in geology and/or paleontology desired for GeoCorp internships. On-site housing provided.
For additional information contact the lead interpreter or paleontologist at 307-877-4455 or e-mail.