Visitor Center Summer Hours in Effect Beginning May 1, 2014

The visitor center will be open on Saturdays and Sundays from 8 am to 4 pm from May 1 – October 12, 2014. The ruins areas, hiking trails, and administrative access road are all open for the summer during park hours, sunrise to sunset. More »
Your Safety
Fort Bowie's elevation (5,000 feet) may require some acclimitazation. Drinking water is available only at the visitor center. Summer hikers should carry water and sun protection, since temperatures may climb above 100 (F). Summer storms may suddenly and briefly flood the washes. Simply wait out the high water. Avoid hiking when lightning is present. Also, be alert for the occasional rattlesnake.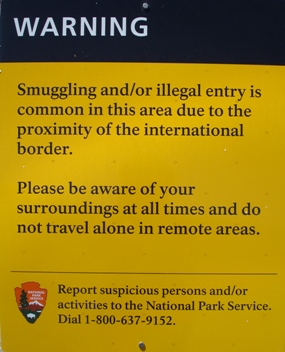 What Can You Do?
Be Aware, Be Safe
Remember that cell phone service is usually out of range within park boundaries.
Know where you are at all times, follow good safety procedures and use common sense when making decisions.
Do not pick-up hitch hikers.
Keep valuables, including spare change, out of sight and lock your vehicle.
Avoid traveling on well-used but unofficial "trails".
Avoid hiking in areas of major border activity.
People in distress may ask for food, water or other assistance. It is recommended that you do not make contact. Report the location of the distressed people to the visitor center, other park staff, or the Border Patrol.
Report ANY suspicious behavior to park staff or Border Patrol. Please do not contact suspicious persons, contact a Ranger for assistance.


Did You Know?

Fort Bowie National Historic Site is situated in an unusual habitat located between upper desert grassland and oak woodland ecological zones. Different animals from coyotes and gila monsters to coatimundis and black bears have been spotted!