Friends of Flight 93 National Memorial
Who are the Friends of
Flight 93 National Memorial?
The Friends are recognized by the National Park Service as the official nonprofit supporting partner of Flight 93 National Memorial. Established in 2009, the Friends now include over 280 members from 18 states. Friends are family members of the passengers and crew, first responders and investigative personnel who responded to the crash site in September 2001, U.S. Capitol employees, members of the media, volunteer Ambassadors, and many others from various walks of life, all with the same goal: to ensure that the story of Flight 93 is always honored and remembered.
Download a Membership Brochure
Annual Report - 2013
Download
(PDF - 15.1 MB)

Explore annual reports from past years.

Newsletter - August 2014
Download the current edition
(PDF - 459 KB)
Did You Know?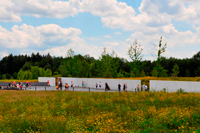 The Memorial Plaza at the crash site is now open to the public. Work continues on other elements of the memorial. More...