Change to Winter Hours of Operation

Monday October 13, 2014 was the first day of winter hours of operation. Open: 9 am Last Entry: 4:30 pm Close: 5 pm More »
Things To Know Before You Come
The permanent Flight 93 National Memorial is now OPEN

Limited Shade
The Memorial Plaza at the crash site is an outdoor location. There is very limited shade. Please dress accordingly.
Bring Water
There are no water fountains, sinks, or other means to fill water bottles. There is no bottled water. You will need to bring your own water.

RVs and other over-sized vehicles
RVs are welcome. There are eight over-sized vehicle parking spots in the parking area at the Memorial Plaza. Map with oversized parking area marked.

Please help the National Park Service in its mission to preserve, protect, and tell the story of Flight 93.
The following policies exist to help meet that mission:
Solicitation - No solicitation, concessions, brochures, sales, signs, or advertisements are permitted anywhere.
Overnight parking or loitering at the site is prohibited.
Planting of trees, flowers, or shrubs is prohibited.
Structures - No structures are to be installed at the site.
Trash-Free - The memorial is a trash-free park. Please respect the site by taking your trash with you. Trash bags are provided for your convenience.
Smoking is prohibited in all buildings. Memorial Plaza - permitted ONLY in the parking area and sidewalk areas leading to the plaza. Non-smoking area is posted
Pets (with the exception of service animals) At Memorial Plaza - permitted only in the parking area.
Food and Drinks - At the Memorial Plaza - permitted only in the parking area.
Respect - The Memorial Plaza is a place for quiet reflection and expressions of respect.
Tribute items left at the Memorial Plaza will be collected weekly and placed into the Tribute collection. Items may be left at the Wall of Names and in niches in the Memorial Plaza wall.
Crash Site - The crash site itself is accessible only to Flight 93 passenger and crew family members.
Thank you for helping to honor and respect the story of Flight 93.



Did You Know?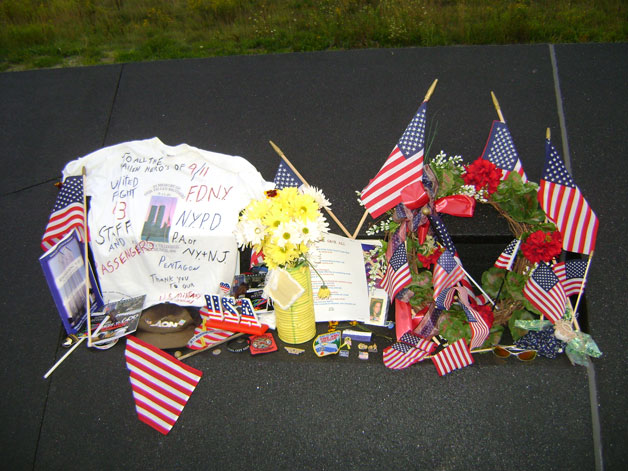 More than 60,000 tributes have been left at Flight 93 National Memorial and visitors continue to leave new tributes.