Plant a Tree at Flight 93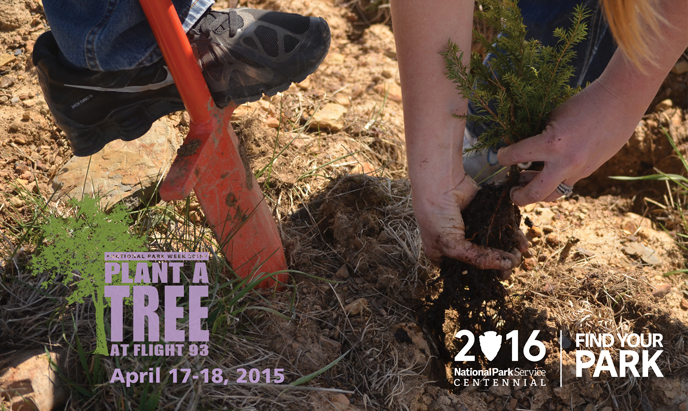 Over the course of two days, April 17-18, 2015, the National Park Service, the Friends of Flight 93, and the National Park Foundation continued a major reforestation effort that will eventually result in large areas of new forest at the memorial.

2012:
500+ volunteers planted 13,000 seedlings across 20 acres.
2013: 500+ volunteers planted 15,500 seedlings across 23 acres.
2014: 500+ volunteers planted 19,500 seedlings across 30 acres.
2015: 500+ volunteers planted 22,000 seedlings across 32 acres

These trees, which are a mixture of several native species, will form an essential windbreak to protect trees planted in the nearby Memorial Groves. Much of what is now the memorial is a former surface coal mine and this effort will also help re-establish woodland wildlife habitats and to cultivate a living memorial.
New for 2015: Invasive Species Removal
This year, in addition to planting seedlings, volunteers will be needed to help remove invasive plants that are threatening the trees that have been planted in past years. The Memorial's native plant communities are impacted by construction projects, visitor use, and the invasion of non-native plant species.

Reclaiming Former Coal Mines

Plant-a-Tree at Flight 93 is part of larger effort to reforest former coal mines all across Appalachia.  Explore this wider effort through this wonderful piece by journalist, artist, and NPR contributor Jonna McKone. Originally aired on the Allegheny Front www.alleghenyfront.org/

Duration:

4 minutes, 21 seconds

Credit/ Author:

Jonna McKone - www.jonnamckone.com/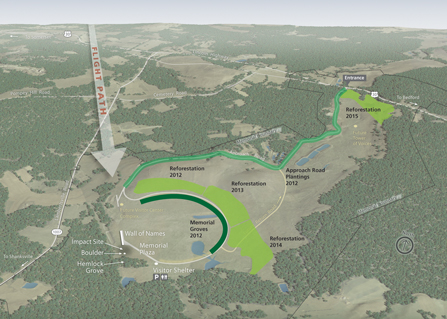 National Park Service