Change to Winter Hours of Operation

Monday October 13, 2014 was the first day of winter hours of operation. Open: 9 am Last Entry: 4:30 pm Close: 5 pm More »
Webcams
Webcam 2 - Visitor Center Complex
Under Construction
This webcam shows the progress of the construction of the Visitor Center Complex including the Visitor Center, the Flight Path Walkway, and the Learning Center

Webcam 1 - Memorial Plaza
Completed
This webcam provides current views of the Memorial Plaza at the crash site - which is complete. You can also explore past images and a time-lapse movie of plaza's construction.
Both webcams live on same page. Click Here to view both web-cams.

Did You Know?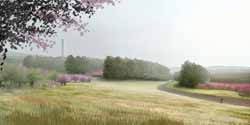 The Flight 93 National Memorial design was selected from over 1,000 entries from 48 states and 27 countries in an international design competition.