Webcams
Memorial Plaza at the crash site
This webcam provides current views of the Memorial Plaza.
You can also explore past images and a time-lapse movie of plaza's construction.
Located at the Western Overlook - the location of the FBI command center and the final temporary memorial.
View webcam
Did You Know?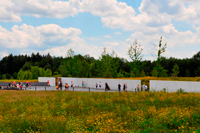 The Memorial Plaza at the crash site is now open to the public. Work continues on other elements of the memorial. More...