Cell Phone Tour - Design Tour
Dial and Discover

Call (814) 619-2065 and press a stop number (301-307)
or
scan the QR code on this page to access the mobile site.
301 - A Memorial Landscape
302 - Heritage and Change
303 - Harmonizing with the Land
304 - Severe and Serene
305 - Monumental and Intimate
306 - Combined Determination
307 - Future Plans
Did You Know?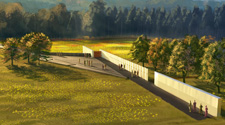 The Memorial Plaza at the crash site is now open to the public. Work continues on other elements of the memorial. More...