Rob Dennis Selected as First Executive Director of the Friends of Flight 93
Date:
September 10, 2013
Contact:
Lladel Lichty - Friends of Flight 93
, (814) 233-1690
Contact:
Mike Litterst - National Park Service
, (202) 306-4166
Shanksville, Pa. – Norwood R. "Rob" Dennis has been named as the founding Executive Director of The Friends of Flight 93, the official volunteer partner for Flight 93 National Memorial. In his role, Dennis will be responsible for the organization's day-to-day management and core functions such as strategy, finance, fund raising and program delivery.
"Rob Dennis is a proven leader whose deep commitment to the Flight 93 story will allow him to lead the Friends as they assume a greater role in the development of Flight 93 National Memorial," said Lladel Lichty, board president of the Friends of Flight 93. "His fundraising and management experience will serve him well in his new position and greatly benefit the Flight 93 partnership."
Dennis brings nearly 20 years of hands-on senior management leadership and experience in strategic planning and research. He comes to the Friends of Flight 93 from the National Science Center in Washington, D.C., where he has served as CEO & President since 2005. In that position, he led a public private partnership with the U.S. Army to engage America's youth in life-long learning and careers in science, technology, engineering, and math disciplines.
"I am deeply honored to be able to work with the National Park Service in caring for this special place and ensuring that people across the nation are able to feel connected to this Memorial through their support of the Friends group," said Dennis. "I look forward to working with our many partners across the area and nation to preserve this site and tell the story of Flight 93."
Founded in 2009, the Friends of Flight 93 works with the National Park Service to honor the sacrifice and courage of the passengers and crew of Flight 93. They support the mission of the Flight 93 National Memorial with volunteers, resources, and civic engagement in order to inspire all who visit with the Flight 93 story. As the founding Executive Director, Dennis will lead the Friends as they increase their organizational capacity to take on a larger role in fundraising to support future programming and stewardship needs at the park. The new position was funded through a generous grant from the National Park Foundation, the official charity of America's national parks, and Dennis' appointment follows a national search that was supported by the National Park Service and the National Park Foundation.
"Rob brings a strong practical and working knowledge of nonprofit leadership and experience in public/private partnerships, high level fundraising, and innovative educational programming," said Jeff Reinbold, Superintendent of Flight 93 National Memorial. "He has a genuine commitment to the Memorial we care deeply about and will be a great addition to the team." 
Dennis is a graduate of Augusta College in Augusta, Georgia. He and his wife, Terry, have three children. He has relocated to Western Pennsylvania and will begin his new position immediately.
To learn more about the mission of the Friends of Flight 93 National Memorial and to become a Friend, go to www.nps.gov/flni/supportyourpark.
###
Did You Know?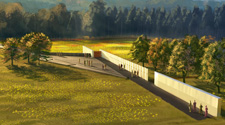 The Memorial Plaza at the crash site is now open to the public. Work continues on other elements of the memorial. More...