Letter of Commitment
News Release Date:
February 20, 2009
Contact:
Joanne Hanley
Letter of Commitment to complete First Phase of Memorial by tenth anniversary signed today by Senator Specter, Governor Rendell, Acting NPS Director Wenk and others.
Click here for the Letter of Commitment  (.pdf 315 KB)
Did You Know?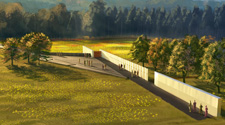 The Memorial Plaza at the crash site is now open to the public. Work continues on other elements of the memorial. More...