Prescribed Burn Postponed

The prescribed burn on approximately 180 acres of monument land starting the week of October 13 has been postponed. If conditions and planning updates are met, the operation may still occur later the month or maybe spring. Check back for updates. More »
Snowshoeing and Cross-Country Skiing

During the winter, there may be an opportunity to go on a ranger-guided snowshoe hike.
Please call for more details or for current conditions, call the Monument at 748-3253.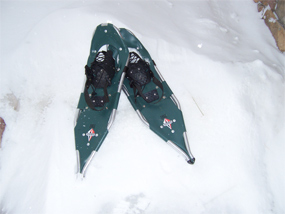 When there is enough snow, Florissant Fossil Beds' gentle meadows, hills, and trails can be a great place to snowshoe or cross-country ski.
The Monument does not have any equipment available, so please bring your own snowshoes or cross-country skis.
Did You Know?

Most fossils in the monument are from the late Eocene (34.07 million years ago), but a tooth and jaw fragment from a much younger mammoth have also been found. The fossils are from the Pleistocene Epoch and are at least 50,000 years old.