Exhibit Installation May 14 - 22

New exhibits will be installed in the new visitor center May 14 - 22. Access to the park film and exhibits may be reduced. You may want to consider visiting after May 23 if you schedule permits. The park remains open every day from 9am - 5pm.
Snowshoeing and Cross-Country Skiing

During the winter, there may be an opportunity to go on a ranger-guided snowshoe hike.
Please call for more details or for current conditions, call the Monument at 748-3253.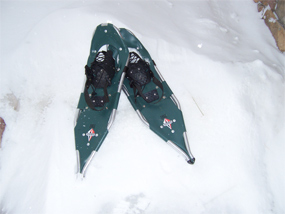 When there is enough snow, Florissant Fossil Beds' gentle meadows, hills, and trails can be a great place to snowshoe or cross-country ski.
The Monument does not have any equipment available, so please bring your own snowshoes or cross-country skis.
Did You Know?

Up to 1,500 different kinds of fossil insects have been found in the Florissant Fossil Beds making it one of the most diverse insect fossil sites in the world.